Lake Powell
May 1, 2012
Out west Trip: 2011



We were sad to leave Zion National Park, but at the same time we were very ecstatic to visit Lake Powell. We arrived early in the morning to the main arena where all of the house boats that were for rent were docked. Right as I stepped out of the car, I could smell the fresh air and hear tons of boats zooming across the shimmering waters. As I walked down toward the arena, I could see a restaurant floating on water. This restaurant was on top of a huge raft like thing and was rotating around in a circle because of the water moving underneath. I looked closer at the water and could see schools of fish swimming below the docks of the restaurant. As we checked in at the arena, I looked behind me and could see an endless line of houseboats coming and leaving the docks. Teenagers were out riding jet skis around their boats in circles. As I looked across the water, I could see huge mountains, like the kind in Zion outlining the crystal blue lake, which seemed to stretched on forever and ever in every direction. A guide took us to the houseboat that we had rented and told us all of the features included. He told us that each houseboat had an upper deck where you could also drive from, a waterslide, oven, air conditioning, two bathrooms, a living room, kitchen area, back and front open areas to sit outside, three bedrooms, and that one bedroom had four beds included. Just listening to the guide, I could already picture our houseboat in my mind. As we reached our houseboat, I could see some people already in it. I was very confused at first, but as I looked closer I could tell that it was the family who we had invited to come out with us. They're are close friends of ours that live in Utah and have a four year old son named Ben. It was very exciting to see them again. We sat down and agreed to leave the docking area as soon as possible before it got too crowded. Margaret stopped and whispered something to my dad. She grabbed my arm and told me to follow her, so I did. As we reached the Jet Ski unloading area, I realized why she had motioned me to come with her. In the unloading area were two jet skis that they had bought for the trip! I hopped on and couldn't wait to drive once more. We drove to our house boat. The feeling was amazing. The entire ride I could feel the cool splash of water against my face as I bounced over the waves.

As we got to the houseboat, we hooked the Jet Skis onto the boat except mine because I was allowed to ride mine the entire day. We had decided it was best to get as far away from people as possible to have our own private space. We found a nice crevice for the night and tied the boat onto the cliffs nearby. We had docked near some cliffs that were perfect for exploring. I decided to skip the exploring on land and decided to explore the water instead. The next day we wanted to go somewhere else, so we decided to move farther down the lake into a more open area. Our boat had trouble starting, but we all ignored that trouble and instead focused on soaking up the sun. We found a spot near some other boats. For some odd reason, the wind kept blowing our boat away from the safe area where we had docked and into a more shallow and rocky area. We knew this wasn't the best spot to tie up, but we did anyway. Early next morning, Wade, Liam my younger brother, and Margaret decided to take a run on the Jet Skis. About an hour later, they came back with a speedboat and three other Jet Skis. Liam, Margaret, and Wade were all in the speedboat with looks of terror in their eyes. Wade looked very sick and was brought in immediately. Margaret had her hands on her head and looked scared. Liam was trembling and said his head hurt a lot. We were so confused on what had happened. Apparently, Wade and Margaret had had a Jet Ski crash. Liam was thrown off the Jet Ski with Margaret and landed on his head. Wade on the other hand had his side jammed into the handle bars and looked very pale and couldn't move. The men on the speedboat found them all floating in the water with Wade not moving. The men brought them back to our boat and noticed that we weren't tied up right either. They helped us so much that day from rescuing our friends to helping our boat not become damaged. For the rest of the day, we all hovered over Wade to make sure he was okay. After dinner, I was with the kids up on the rocks looking at the stars. I was so busy pointing out constellations to the kids that I didn't even hear Margaret scream. I jolted upright and saw Wade on the floor unconscious. My dad jumped into action by radioing in about the accident and that we needed help badly. Over the next ten minutes, we got calls from doctors on boats nearby that they would come to help us. Meanwhile, Margaret was on the phone with the arena. She came to us and told us that Wade would need to be life lifted out of the boat to get him to the nearest hospital. Sure enough, a helicopter landed near us to get Wade. Margaret and Ben went with him. This was not the way any of us had wanted to say goodbye at all. We all went to bed that night praying Wade would be okay.

The next day was our day to return the boat and leave Lake Powell. I was sad to leave the most beautiful lake that I had ever seen. As we returned to the arena, I could see Margaret and Ben waiting for us at the entrance. We helped them load their luggage and jet skis onto the trailer and said our final goodbyes. Margaret did tell us that Wade had four broken ribs and pneumonia but was okay at the hotel that they had rented. I was so happy that Wade was okay and that it wasn't as serious as it had seen. I turned around to see Lake Powel one last time and hopped in the car for the last time this trip.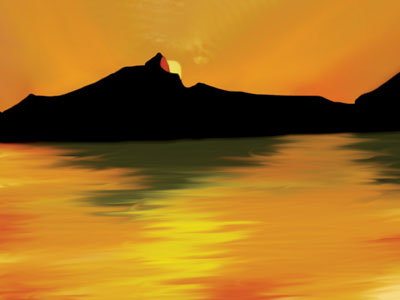 © Rachel M., Camarillo, CA