Monsters
April 29, 2012
Maybe I'll get in trouble in trouble for this, but I don't care. Everything can't remain a secret.

My family may look normal but honestly, we all are as crazy as the patients in a mental facility-not literally.
There's me, my twin brother, my mom and my dad. Small family, big problems.
My mom is a control freak and religious nut and trust me, not a good combo. To her, everything is sin. Kissing is a sin, dancing is a sin, rap music is a sin and science is the devil-according to her.
My dad was an alcoholic, sadly his best friends was his bottle and his deteriorating liver wasn't going to last for long. He was unemployed and totally lost when he chugged down his liquor.
My twin brother was a hardhearted person: no feelings, no emotions not even any sign of life aside from his vital breaths.
I'm the closest to "normal" but doctors that I'm the crazy one. I have a personality disorder, living my life as if I shared my body and had tons of secrecy.
Call me crazy (I may be) but at the end of the day, those monsters that surround you, no matter how crazy, dysfunctional or abnormal are still family and me, I love my monsters. They're family.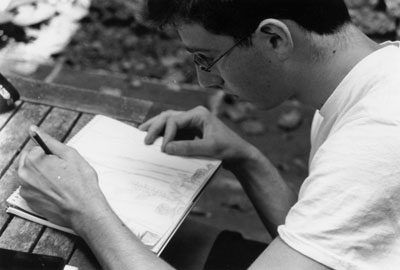 © Kira L., Bethesda, MD