The Past and the Present
April 20, 2012
It's astonishing how quickly things can go from present to past tense. The day can be so simple, so average. Before you realize it, heartache is knocking at your door. But you have to continue, keep going for those around you.

I didn't't really want to go to my dad's. I never do to be honest. Going to my dad's means dealing with his monster girlfriend, Sandra. I expected nothing more from the night than cliché dinner topics and boring sitcoms.

We were about to head out for dinner when Sandra called. She told us that her mother, whose name I still can't recall, called. She wanted to know if we could take her to Newport for a viewing.

Her mother is rather old, almost on the edge of senile. She's the type that goes to the oldest church in the county, thinks she knows every home remedy to avoid the doctor's office, and plays Phase 10 on Saturday nights with the entire family who, of course, all live within a one mile radius of each other.

My father would do anything for the old bat. He agreed and asked if I wanted to come along. I wasn't particularly in the mood to be alone, so I reluctantly agreed. We drove over to her house near an older, ran down, grocery store. She immediately began to ramble on about the latest family drama with her druggy niece. I was lost for the most part until we pulled up to Manes' Funeral Home. I'd caught on the way there that she used to baby-sit for the person that died.

"He's only eighteen," she croaked. "I don't even know what happened to him."
I refused to go inside. didn't't know the guy. That would be wrong. Disrespectful.

The lady liked to smoke. One after the other. She kept coming out to drag another about every five minutes. It was such false hope that maybe, just maybe, we could go home. After about twelve cigarettes, we finally left, and more babbling began.

"…Jesse, so young. Such a shame," she murmured.

I'd barely caught it.

"Jesse who?" I voiced out of pure curiosity.

"Jesse J. It was a closet casket service. Girls kept coming up and kissing the casket then putting roses on it. Must have been twenty roses. His mom said that he shot himself."

My adrenaline was racing.

I know a Jesse J, I thought, but I haven't seen him in about five months…

It couldn't be Jesse. He had to be nineteen by now. I immediately texted my friend, Hennah, who was just talking about texting him a few days prior to. Though didn't't give her a reason for wanting to know, she texted back rather quickly, saying that he definitely should be nineteen by now. Relief.

There was no way it was him. We were over halfway home by that point. Though I was slightly relieved, I still couldn't shake a feeling or put a finger on that feeling. It was horrendous. I was laced with denial.

When we got home, I walked up from the garage and sat down to take my shoes off. My father placed a funeral program in front of me. The cover was beautiful though it was just a picture of snow-topped mountains. The paper was nice, too. Very thick parchment. I slowly opened it, almost scared.

Inside, on the first page, was a picture of dear Jesse. My favorite picture of him. His brown curls were tucked inside a striped beanie, slightly peaking out. His eyes were so clear, a shade of green you would only believe to be natural if you saw it in person. His pupils forever dilated from all the coke he snorted when he was seventeen. Underneath the picture was a poem titled, "Let Me Go." It was about suicide, not missing him too much, and letting him go to where he wants to be.

On the second page, it spoke of how young he was. He was only seventeen, and that was hardly a life. January 22, 1992 - January 16, 2011 was hardly enough time to accomplish what he was capable of. It had only been six days prior to his nineteenth birthday.

Hennah deserves to know, I thought. She has to.

Telling someone a loved one has not only died but at his own hands was something I would never wish upon anyone. She quickly got off the phone. I wished that didn't't have to do it over the phone. It hadn't quite hit me yet. I needed to take a shower. After all, I had school the next day. I needed to keep sane. Go on like nothing had happened. I couldn't worry those around me.

The moment I stepped in, everything came crashing down. It hit me so hard that didn't't even know what was happening. I broke down with the warm water pouring over me, yet I was cold. Empty.

I realized then that people tend to flirt with the romanticism of suicide, but suicide has no glory.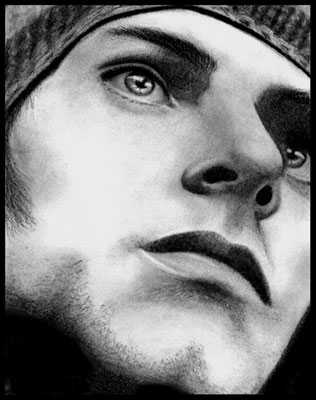 © Anna Y., St. Robert, MO