A Maverick Idea
April 19, 2012
If you and your family are looking for a vacation that combines fun with the possibility of drowning in the ocean, let me suggest surfing. However, to save money, I don't suggest going to Florida, Mexico, Hawaii, or any other extraordinary beach destination, but instead the Northern California Coast. This area may not be known for its beaches (since the water is a warm 56°F), but I assure you that it will be a memorable vacation. I recently went with my family, and we still talk about the near hypothermic conditions we experienced together.


The most important advice I can give when planning a surfing vacation is to make sure you purchase or rent all the items true surfers wear. The first of these is a wetsuit, which I suggest you buy so you are prepared the next time you willingly choose to swim in ice water. In warmer climates, wetsuits are not necessary; however, they become a necessity when vacationing on the Northern California Coast if you want to stay in the water for more than thirty seconds. When purchasing the wetsuit, focus on two qualities: style and size. Although short wet suits are more fashionable according to the Surfer's Fashion Institute of the World, buy a full-body wetsuit unless you want your arms and legs to freeze in the water. As for size, do not, and I repeat, DO NOT, buy any wetsuit that fits comfortably. Most surfing veterans will tell you the tighter the suit and the more difficult it is to walk in, the better. It is very important that it feels as if you are being suffocated and can barely breathe. This means the wetsuit is working – it will keep you the warmest.


The next purchase I recommend is booties. Although some true surfers say booties are for the weak, I suggest you shamefully accept that you are weak and buy the booties. Not only will they keep your toes from falling off (which is vital to successful surfing), but they also protect against the rocky bottom you are sure to hit a few times when learning to surf.


As for the actual surfboard, I suggest you rent one and take the advice of professionals because if you are like me, you have no idea which one will fit you best. While it may seem like the short five foot long board is best because you can actually carry it, those are typically the worst for beginners. Instead, it is obviously smartest to choose the twenty foot long board that causes you to knock over half of the items in the store. Don't worry about the mess you make leaving the store with your plank; that's bound to be the least embarrassing part of your day.


Once you have all the essentials, you are finally ready to ride the waves. Almost. First it is advised that you take a surfing lesson with a bunch of other wannabe surfers who pretend they know what they're doing, but clearly don't because they're also taking a lesson. This is necessary because surfers need entertainment too. Your instructor is always a 60-something year-old sunburned man with blond wavy hair named "Brody." Brody will start the lesson by telling you that he was born in the water and is one with the waves. He will encourage everyone in the group to become one with the waves as well, so first you will sit on the beach for at least ten minutes while you watch the waves, then close your eyes and visualize the waves, and then visualize yourself on the waves. After this key period of meditation, you will practice surfing on the beach. Brody will have you lie on your board, paddle in the sand with your arms, and jump up into a sort of ready position. In no time you'll think surfing is sooo easy. Don't kid yourself.


Now is when the real lesson starts. Brody grabs his board and runs through the sand into the crashing waves. He effortlessly glides through the water. How does he do this? He is part dolphin. Every good surfer is part dolphin. Didn't you know that? Then he invites everyone into the water. In an effort to imitate him you awkwardly grab your board, take baby-steps through the sand as your wetsuit rides up, and squeal as the ice water stabs your body – so much for the wetsuit. After it feels as if you've been paddling for an eternity (about one minute), you catch up with Brody in the open ocean. He glides into a sitting position on his board and begins getting you ready to catch your first wave!


When Brody spots a suitable wave coming, he yells at you to start paddling! Excitedly you start flailing your arms, and soon a six inch wave is right under the board. Brody screams to stand up, which you attempt to do, but before you realize it, you're flying off the board. You plunge head first into the ocean, swallow a mouthful of saltwater, and get twisted as if you're in a washing machine. Your feet and legs hit the shallow reef; it is times like these that you're glad you're wearing a wetsuit and booties to protect you. Just as you feel you're about to drown because you cannot figure out which direction is up, you miraculously surface in the water and drag yourself up onto the surfboard.

"Good try!" says Brody, with a smile spreading across his face. As you paddle back in Brody's direction, each other member of the group attempts surfing one by one. And one by one each person tries to stand up on the surfboard unsuccessfully. While Brody acts supportive, he cannot help but laugh. He loves watching beginners fly through the air, land with a splash in the wave, and eventually resurface looking discombobulated. His favorite part is when the surfboard shoots out of the water.

Time after time you attempt to catch a wave, fall off the surfboard, and plunge into the icy water. Your shoulders, arms, and abs become exhausted from the workout. Your mouth and eyes permanently burn from the salt. But, for some crazy reason, you do not give up. Eventually you get to the point where you no longer fall off the board, but instead willingly jump off when it looks like you're about to go under. Then finally, a miracle happens! Somehow, you manage to muster enough strength to stand up on the board and ride the wave in! That's the point I'm at. After a few trips to the Northern California Coast, surfing does not become any warmer, but it does become more enjoyable now that I can actually "surf." I am filled with hope. I don't hope that one day I will become as good of a surfer as Brody, but I do hope that when I fall off my surfboard, I remember to close my eyes and mouth to avoid as much salt water as possible.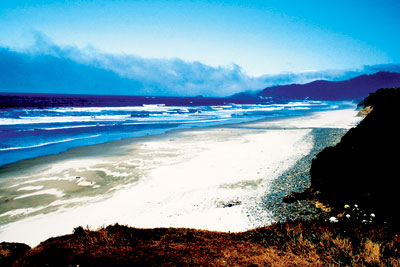 © Kristin R., Los Altos, CA