Back Then
April 21, 2012
I remember when I was a little girl. I had had this best friend. He was everything to me. I had always looked at him as my match; more than just cousins; like now; just cousins.

When we went to his house( which i love. i still envy him to this day for getting to live on something so beautiful), We would go outside, and ride our mom's banana bikes, or fill the feeding buckets with grass or apples, and take them out to the horses, before going swimming in their water tanks. I always thought it was funny how the horses always somehow knew to be gentle around us; always trying not to step on our feet, or let us get behind them. we would stay outside and play together until it was too dark, and then come inside and argue on who got to pick first(movies). Then we would fall asleep in the waterbed with grandpa.

When we were at my grandma's house, it was different. we would race down the hill towards the lake towards the swing set.

"i get the red swing"

"I get the blue swing"

or we would jump into our swimsuits and go swimming all day.

Those where the best days of my life. the days when you could go out and get full of mud and dust, and it didn't matter, because it was the country. No one cared. Everything was dirty in the country, But its a good dirty. A farmhouse type dirty. And i loved it. But then we moved. Life changed me forever. and i think i can remember the day that made everything different.

We were living in the trailer house. it was a nice house, not too far from the farm. my mother was crying the whole way over to my grandma carol's house. When we got there, i remember some fighting, and then my mother's hands were around my aunt's neck. it wasn't matthews mom. just one of the five sisters. But after that, we moved away. and then later i was in foster care because mom was mistaken and didn't know her bf was a petafile. so when i got out we lived in cloquet for ever. i still got to see matthew every so often. but it wasn't so much the same anymore. we were just cousins now. Just cousins with a deep memory, of when we were little.

This memory kind of reminds me of a verse from a song:

We were born and raised, in a summer haze, bound by the surprise, of our glory days.

See, i envy matthew today, not mainly because he lives in a beautiful place, in that beautiful house, filled with years upon years of memory; but because he lives in the place of our memory. of our history. the place where we were a bond, a friendship bond now broken, now distanced; now lost.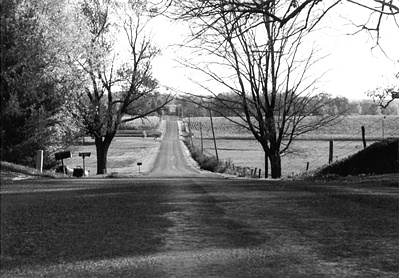 © Amy J., Sebring, OH