The Wake-Up Call We Never Knew We Needed
April 18, 2012
I've always wanted to live life with no regrets or fears at all- to the point where I could live every day as if I were going to die from a severe heart attack, or brain hemorrhage that same night, but sometimes it's hard to muster up enough willpower to keep that kind of mind-set every single day. Sometimes, I enjoy, or at least I tell myself that I enjoy the safety bars in my life, my own limits that I set up, and the fact that I don't have the guts to do things so drastic or outside of my comfort zone. Nevertheless, nothing has the inconceivable capability of changing my mind more than personal experience with something- like the story I'm about to tell you. This experience is something that really forced me to become conscious of the fact that life is precious as well as incredibly and sometimes painfully uncertain.
I clicked my pen repeatedly against my chin as my history teacher, with his deep, monotone voice, read aloud a long passage about some man named Alexander Hoover. His undeniably distinguishable bald spot reflected the light that flashed into the room through the enormous back window that lacked any sort of shades, blinds, or barricades from the incandescent light gushing in from outside. I think the school must have done that on purpose, for I am more than certain the entire class would have been thrown into an almost comatose state within a matter of seconds had the classroom been the least bit dark. I took out a page of notebook paper that had not been perfectly separated from the notebook, and started drawing. I always use drawing as a way of ensuring my body and mind stay conscious through boring classes. Curves and lines turned into beautiful patterns and floral, vintage looking, tattoo-like compositions. In the middle of the paper, I wrote the world "Faith" in the most beautiful penmanship with which I've ever written. I was completely unaware, and doubtlessly ignorant of anything and everything going on around me when suddenly I heard a deep, monotone voice muffle my name from the front of the room. I could feel the spark of panic slip from the tips of my fingers, through my veins and down to my toes. I had not the slightest idea of what we were talking about in class let alone what I would say in response to whatever question he was planning on asking me. "Um…" I croaked, softly coughing in a struggling attempt to clear my cracked voice, "yes?" I looked down at his chubby fingers, and wedged between them I saw a small, green slip of paper- a note from the office. Safe! The little note was for me, and that meant I wouldn't have to risk making up any foolish, nonsensical answers to questions about people and things I knew nothing about. I grabbed the piece of notebook paper I had been drawing on and shoved it in my jeans. I then grabbed my backpack and the green slip with my name on it and made my way down to the front office. The familiar, middle-aged woman at the desk gave me a somewhat desolate look, which made me a little worried. "I got a call from your dad", she said, "there has been a family emergency and he will be picking you up from school within the next couple of minutes". She didn't say anything more, but she didn't need to. My dad pulled up along with my mom and my sister in our dark green mini-van. He looked tired. I hastily hopped into the front seat and as we drove, he told me that we were taking a trip to Maryland because my twelve-year-old cousin Jaclyn had been kicked in the head by my aunt's horse, in their back yard. The impact of the metal horseshoe had crushed the entire left side of her skull and she was in critical condition at John Hopkins Hospital.

I can't even begin to describe what it was like to look through the glass window and see her lying motionless under a blue blanket in the tiny hospital bed with a face so swollen and discolored it was impossible to recognize or distinguish who it was, had you not already known. Jaclyn's face was yellow, blue, black, purple, and a combination of every other color imaginable. A white bandage with dry bloodstains covered her entire skull. She was hooked up to machines, wires, cables, chords, IVs and tons of other things that I had never seen before. We couldn't see this at first, but her head had been shaved on the left side to reveal a gash held together by large, thick staples. The wound started just below her left eye and curved its way up the entire length of her forehead, ending just behind her left ear. She had two metal plates inserted into her skull since the bone had been completely shattered from the impact of the kick.
We stayed in Maryland for a week and a half to be with her as well as our family. My sister and I spent hours on end in the hospital playroom surrounded by little kids drawing, coloring, and painting pictures with which to decorate Jaclyn's room. Even with all the artwork, it still felt like something was missing. On the last day that we were there, standing in the room I noticed I was wearing the same jeans that I had been wearing the day my dad had picked me up from school. I reached in the back pocket and pulled out the crumpled piece of notebook paper with the designs and the word "Faith" printed across the middle. I carefully unfolded it and tacked it on the wall just above her bed frame. That was what was missing.

In the flight-for-life helicopter on the way to the hospital, Jaclyn was pronounced dead three times. It is an insane miracle that she is alive and perfectly healthy today. Life is beautiful, unpredictable, enjoyable, saddening, and unfair. Life is many things. It can be everything and then it can be nothing depending on the way you look at it. It can be given or taken in an instant, or even worse, never lived. One minute you could be walking with your sister next to a horse that you have been around your entire life, and the next minute you could find yourself in a flight-for-life helicopter with paramedics trying to recover the heartbeat that you no longer have. Life changing experiences exist and they can be horrific, but sometimes they act as a kind of wake-up call that we never knew we needed.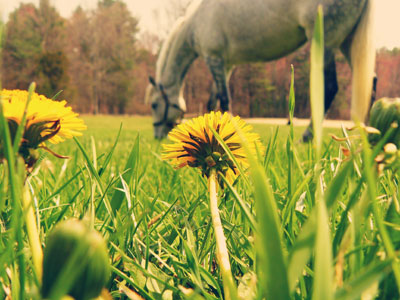 © Madalyn W., Holliston, MA