The Treehouse
March 20, 2012
I remember those days that seemed to last forever. I remember how I used to run through the grass to my parents, asking them to "Come see!" Who knows what they were looking for, but all I remember is it was magical.

Across my yard was a forest, dense with trees and plants. A creek ran through it and twisted through the trunks and roots. The air was fresh and cool, blowing across the creek and through the trees. I had been here so many time that I recognized each and every tree. I noticed when even a single branch had broken off, or a new rock fell into the creek.

Although I loved the trees and the creek, they did not complete the picture. Hidden inside the woods was my treehouse, my castle. A rope bridge hung across the creek. Once across, a four-sided building, with windows and a door. It had sat there for years before I was even born, and the muddy tint of its wood reflected it. It was five feet tall, the perfect height for a six-year-old. I could reach all of the shelves and windows so I could do things on my own.

My parents were too tall to fit inside, but I wouldn't have let them in either way. "No grown-ups allowed!" I would say. But I couldn't always keep the magic to myself. I let them peek in, but they couldn't ever go inside. I guess I thought that they would ruin the magic because they're old.

I would stand in the doorway, foam sword in hand, and defend the castle from any danger. Of course, I sometimes played the princess. I would call from the window for hours, asking for a prince to save me. That prince did come, but he was a foot tall, made of plastic, and his name was Ken. Other times I would stand on the bridge, shaking it as I went. I pretended the creek was lava and that the volcano was about to erupt. I would walk back and forth on the bridge, each time getting closer and closer to safety until finally, I made it to the treehouse.

The treehouse was not just a treehouse. It was a castle, a pirate ship, a rocket, a farm, a school, a restaurant, and even a volcano. I spent my childhood there, and had countless adventures.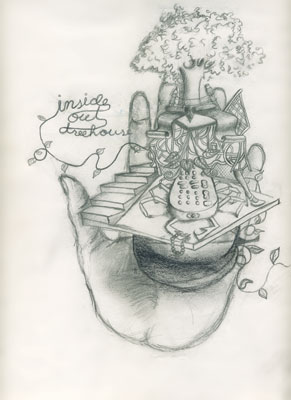 © Moselle S., Le Claire, IA