Why Everyone is Interesting
March 14, 2012
I missed it. The three worst words you can hear when building relationships.

I'd been hanging around this one guy for so long, but I missed the chance to get to know him. He was a player, a thinker, and a very funny individual to hang around. And I was really interested in him. I wanted to get to know him, talk to him about things like sport, family, and even (Gasp!) politics. But he was always surrounded by others. This made me a bit nervous. I wanted pull him aside, meet him with coffee, and talk about life. But I was looking for this one opportunity to do it. I kept postponing my attempts, ignoring other people so I could have this one chance.

However, it never came. Eventually, my Dad had another job, and we were moving (again). I had missed out on dozens of opprtunities, because I was too scared and focused. I was extremely disappointed as I walked out of the college. I had plenty of opportunities attempts meet this person, but I avoided them all.

But how on earth could I miss these amazing chances? This is not an easy feat.

There was one word that described me at this time: "shy". I wanted to be social. I loved being around people. However, I was always afraid of meeting new people. As I walked up to opportunities, I was always worrying myself sick with questions like: "What if they have no interest in answering me? What if they ask a question that's too intimate for a first meeting?"

This thought process caused me to stay in the back of the group. I didn't want to open myself to such chances. I avoided actual opportuntities to be intimate, because I had no idea how to start it.
I went to social events, hoping that something magical would happen, and that I would find "The One", the individual who would adopt the position of personal pal and best buddy. It never happened. I found people who "liked" me, but weren't interested in a deeper friendship. It was very depressing.

As I look back on these behaviors, I see where my big flaw was: I wasn't leading my search. I was allowing other people and factors to influence my choices. I flip-flopped, and had no idea about what I was doing.

But there was only one thing I had to do in order to break down my socially awkward barriers: stepping out. I had to take the initiative in order to get any results. Thankfully, there was a simple mental idea that helped me break down my barriers: That Everyone's Interesting.

Have you ever considered that idea? Could it be even possible? You're probably saying "How can that be true? I mean, have you met my next-door neighbor? He's BO-O-ORING." And you're right. Here's boring for you. But what about those who are like him? They consider him to be interesting and engaging.

We often make judgments about people in the same way we make judgments about books: we see the title or details, and make our final judgment. But that's not because a person is inherently boring. It's because we choose to be bored with them. Essayist G.K. Chesterton once said that "There is no such thing as an uninteresting subject; the only thing that can exist is an uninterested person." You choose to be bored with a person.
By breaking down this paradigm of certain people being boring/interesting, it opens up opportunities to meet new people, and discover hidden treasures.
This isn't an easy mindset to change. It takes a lifetime to practice and explore. However, I've found that there are two particular tricks that help one break down any barriers they establish.
both involve searching and inquiring:

1. Search for the Story: Every person has a story, and story is a universal attribute. It's hard not to like a deep and well-written story. But here's the catch: Every person's story is deep, and well-written. The deepness simply comes from a sense of humanity, and the well-written nature comes through emotional ups and downs each person has (or will have)
2. Inquire further: Most people are wrapped up in themselves. That's why it's worth learning how to drive a conversation via questions. Questions like "why did you choose that?, who influenced you to do this?" and "what did you enjoy/dislike most about it?" are easy to use, but it takes a little training to ask Great Questions.

No matter where you are, these two practices will open up doors for stronger relationships, and more opportunities in life. All they require is a bit of work.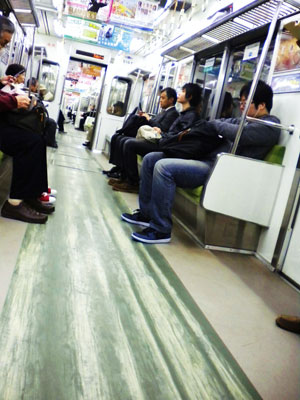 © Abigail W., Kamuela, HI