My Inspiration
January 27, 2012
The sickening scent of alcohol instantly destroyed the peaceful atmosphere of the kitchen following the presence of my drunken father. He looked at me with a tired gaze and strode leisurely towards the sink for some cold water. I looked at him and said, "It is 3:30 in the morning dad, welcome home." This wouldn't be the first time, many school nights were wasted on staying up late because I couldn't help but wonder where he could be, what he was doing, or why he wasn't home even though he promised to be home by dinner. "What do you want from me?" my father replied with an exhausted tone and an impression of annoyance. I shook my head, turned my back to him, and walked away when I finally allowed the silent tears to occupy the frames of my tired eyes.
When my conscious was defeated by the mounted exhaustion, my misted thoughts gradually drifted into the state of dreaming. In my dream: I was standing in a room. I saw streaks of sunlight that shone through the French doors with hesitation, and a piano that stood with solitude. The shadow of its body appeared along with the growing light that was provided by the crack of dawn. The playful painting above the instrument suggested a sense of energy with its bright colours, and there stood my father with a gentle smile. He looked at the piano and said to me, "why don't you play me something?" I walked towards him and the instrument realizing that I've never encountered my father's interest in my playing. I sat down and placed my fingertips on the dusty surface of the piano and started playing Vivaldi's seasonal winter piece. When I looked up, I saw my father's joyful expression. He was there, he was listening, he was paying attention, and that illusion made me so happy.
When I woke up in the morning, reality sunk in and it was time for school. My creative writing teacher asked us to think and write down what our inspirations were. I thought about the things I love, the things I want to explore, and the things I was curious about. Then the question of what alters my emotions arose. The one person that provided me the idea of hope, the feel of sadness, the sense of despair, and the impression of contentment and disappointment was my father. That was when I decided that my inspiration of most of my writings came from the different emotions I felt around my father's actions and my longing for his love and attention. He was my inspiration.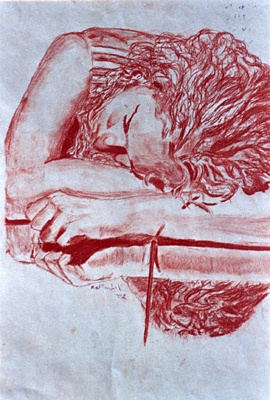 © Mark S., Kannapolis, NC