A Lesson All Will Learn
November 27, 2011
I've often heard my cenacle mother quip, "Teens are oddly innocent". I snorted with laughter at this because teenagers are notorious for being perverse, "No, no", my mom continued, "they believe they can never be harmed of effected, you seem to have this idea you're practically immortal." I giggled at the notion, I knew all humans have been mortal since Eve sunk her teeth into desire. At the end of this summer I returned to my usual ballet school, newly cocky from summer intensives. No doubt, I pushed myself too hard on the Grand Allegro. I attempted a double cavriel in to a tour-jete. Needless to say, it went horribly wrong. I landed, but with my ankle twisted the wrong way. My fellow dancers always describe my falls as having a "gruesome poise". It's good for a laugh, but it's hard to laugh when you're crumpled on the floor.

In the moment following "my Fall", a strange feeling set in. I felt truly venerable for the first time. I realized I could get hurt. It's a pretty fickle revelation, so why did it shock me so much? Since I had a lot of free time on my hands to mend my broken ankle, I thought. And thought. One day it came to me, I remembered what my mother had said. And I recalled how funny of an idea it was at the time. But now, it seemed quite logical. But then I wondered, why did this just now make sense for me? Well, I think it's because "my Fall", (a funny name I gave to the misfortune after reading Eve's story in class.) is when I lost my innocence. Innocence, I've found, does not leave you with a huge bang. It is more akin to blowing seeds from a dandelion. It isn't until you've watched all the puffs of seed flutter away in the warm breeze, that you realize they're forever gone. And as every school yard child knows, there is no use trying to catch them, for by the time you make the choice to run after them, they are no where to be found.

As time passed I tried to observe if I act differently. I didn't talk differently, I looked exactly the same, and all the same jokes were still funny. But, I did notice I was more careful. I have never made horribly bad decisions, but my habits did change. I walked down stairs a touch slower, I triple checked for traffic before turning, I was wary of strangers, and decided not to have that extra cookie for dessert; knowing all of them would prevent negative things from happening to me.

For the most part I was happy with my newfound knowledge, I can now take better care of myself. Still, part of me is a little sad. I'm never going to dance as freely as I used to, I have to learn my limits, and try not to push them. I have to do tedious ankle therapy, and I absolutely hate it! I'd rather be dancing than sitting in the corner with my purple thera-band and receiving forced sentiments of pity from my fellow dancers.

But, through thought process and in fact writing this reflection essay, I have discovered a sort of life message. That a person or even the human race as a whole has to face a loss of innocence in their life span. Wither it be a nation realizing it's inevitable downfall, or a young woman coming to terms with her injury, the story of Adam and Eve is a sort of cautionary prophecy, that all humans should read for themselves.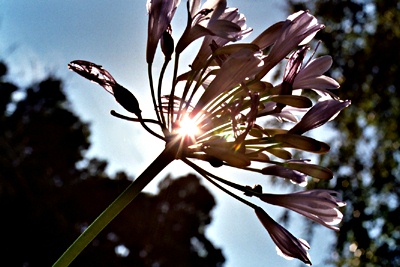 © Brandon W., Redwood City, CA