The Sharp Injection of Maturity
November 11, 2011
It was a dark summer night. Everyone was camped out at the Wakefield Relay for Life Cancer Walk. I donated money to this event because I had lost both my aunt and my Nana to cancer. This was my way to honor them; the words HOPE were nestled on the hill which overlooked the field. I passed it with my friends, and took note of its symbolism. As night fell, I started to run around. The field was black. I passed a tent; I tripped and fell. The wire that was connected to the ground was completely invisible. I got up and tripped again. I walked forward, the world spun. An intense pain shot through the left half of my stomach. I looked down and there sat a tent stake.
Everything went black. My mother horrified, followed the ambulance to the local hospital. The doctors believed I had superficial trauma. They stitched up the wound and my mother helped me into the car. That night I wailed in pain and vomited my insides out. The next morning, I was transported to Children's Hospital Trauma Center in Boston. The doctors found out that the tent stake had lacerated my spleen, and nicked my pancreas. Initially, they thought I would need a colostomy bag for the stab wound was too close to my bowels. I prayed for help. My mother wept. I was given anesthesia, and everything went into a blur.
The next morning in the recovery room, my face was covered by an oxygen mask. One of the fellows thought my injury was so bizarre that she planned to feature it in a medical journal. I had multiple IVs in my arm, a JP drain by my bladder, a catheter, and a tube shoved up my nose. It was extremely uncomfortable. I could not move. Throughout the week, I had many visitors. The hospital, however, was hell on earth. The cables were unbearable. I could not eat and drink until the tube shoved up my nose drained the "bad blood" out of my body. I had never been that hungry or thirsty in my life. Every night I prayed that my hell would soon end. Days later, it did.
When I got home, I rushed out of the car and into my house. I embraced my siblings. I walked up to my room to see a neatly made bed, and all my belongings on my shelves. I relished everything familiar. I felt a surge of maturity. I began to think about what I was going to do to make the world a better place. I was lucky and grateful for this gift from God. I never wanted running around in the dark aimlessly to become a metaphor for my life. Even though it was only June 24, the days would fly by until I would officially become a senior in high school. Although the notion of seniority somewhat pleased me, I was ready to put high school in my rearview mirror and focus on my future. I often look at my scars and reflect on that although the tent stake went in the left side, it pointed me in the right direction. I look forward to new challenges in college.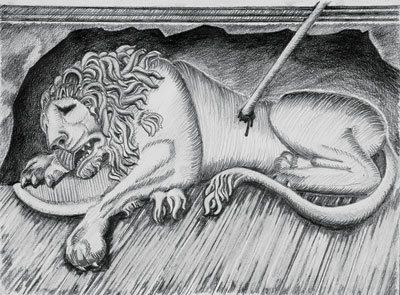 © Nick C., Boca Raton, FL