I would like to present...Myself
October 27, 2011
Who knew that two little words could instil so much fear in your average teenager? Oral. Presentation.
When those words are formed by a teacher's mouth, the whole class shudders, knees start to knock and hands shake in preparation. Foreheads go clammy and stomaches all across the room knot and tighten. Breathing becomes shallow and quick and hearts beat 1000 times a second.
I, fortunately, am not one of those people who start crying when presenting or who shake so violently that they look like a ocket about to take off. Neither am I a particularly motivated speaker, if it has to be done it has to be done.
An oral presentation. What sort of name is that? It sounds like some dental exhibition, but that is exactly what we had today. Speeches. Specifically, speeches on journeys. Find a self selected text, somehow show the rotagonist's journey, yadayadayada. You know the type. Typical school assignment.
Anyway, today was my turn to speak. I was the last person before the bell went. Lucky last. Hmmmm. I was already packed up, ready to go to lunch, and sure we had finished for the day. I thought I had dodged the educational bullet once again...like a Ninja Student. Oh yeah! Another night to practise, hoorah!
"Susanne."
That was all she said, just one word and my nerves came crumbling down around me. I grabbed my palm cards, took a deep breath and walked up to the front of the class. "I've spoken in front of the entire year for elections. Why am I afraid of talking in front of only 20 girls?" I try to give myself a pep talk, "You speak to these kids every day. You don't need to be scared. Just relax, breathe and everything will be fine. And knees...stop shaking...your freaking out the nerves."
Destination: Front of the class.
Reason: To give a speech which was hurriedly written the night before. Not my best.
Time till impact: About 3 seconds.
I stand at the front of the class, I feel naked, exposed. I breathe deeply through my nose and try to still my trembling hands. Right, let's do this!
Three minutes and 51 seconds later I am finished. Sure I rushed a bit and sure my knees were trembling so much I thought I'd fall down, but it's done. IT'S DONE!!! IT IS DOOOOOONEEEEE!!!
Thankfully for me, this is the last speech I will ever have to do at school. But I would like for us all to bow our heads in a minute of silence for all the poor, frightened, quaking kids out there being forced to present speeches and presentations all over the world. Our thoughts go out to them.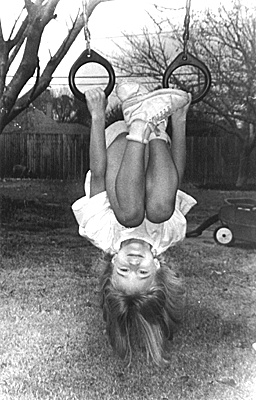 © Nikki W., Highland Village, TX