We're Not So Different, Me and You.
October 26, 2011
The simplest things make me the happiest girl alive.
Maybe it sounds stupid, but its true; in the middle of the summer, I can run outside in my shorts, barefoot, all by myself. I can climb a tree, all the way to the very top, and just sit there. I can just sit there and listen to the wind through the leaves, and the birds, and feel the breeze against my skin, ..and in that moment, I am completely happy.
I can stand in pouring rain, and feel the water run down my face and arms, and feel the thunder shake the ground underneath me.. and feel the wind whip my hair , and rush against my skin.. And be happy.
I can walk out into an empty field of tall grass on a summer night, when the wind barely lifts the leaves and the crickets and fireflies and frogs are out. I can lay down in the grass, and stare up at the most phenomenal masterpiece I've ever seen, ..the stars intrigue me.
The world intrigues me... People intrigue me. The way that, something can be so utterly overwhelming and perfect, that it can make you cry because you literally have no other way to express that feeling. The way that you can listen to one person talk and be completely happy, the one reason being that you're completely in love with them. The way that staring into someones eyes makes you forget the rest of existence for a little while... The way that something is so amazing that the only thing you can do is laugh.
I can walk out on in the morning in early October, when there's a misty fog lingering in the quiet, crisp air.. Its magical. I love the world right after it rains and the sun comes out, everything sparkles and everything is suddenly new and beautiful.
It intrigues me.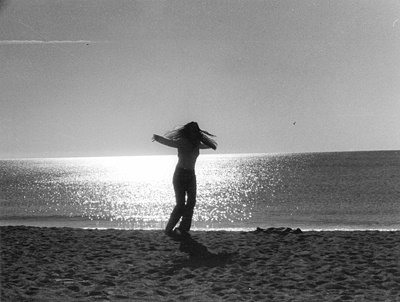 © Denise A., Marblehead, MA