An Unwanted Encounter
October 4, 2011
On a beautiful summer day in San Diego, my family and I decided to go to LaJolla Cove. This is such a beautiful place with much sea life such as: sea lions, many fish, crabs, and sea urchins. Here, I always swim out into the vast, mysterious, blue waters of the Cove. I swim by myself a lot of the time, other times I go with my mom, and sometimes I go with my best friend. I can swim about a mile out into the beautiful waters, and have come face to face with lobsters, fish and large sea lions.

We started down the stairs to get down to the soft white sand s of the Cove. We found an unoccupied spot to set up our towels and large, yellow umbrella. Then I rush down to the chilly water to start getting my body used to it, so that I can start my swim. Then after about ten minutes my body was ready to start the swim. I kicked off from the shallow part of the sand and then I started to feel the long, green kelp try to tangle itself around my legs. I kept my body afloat to prevent this from happening. The feeling of it touching your legs and arms is very uncomfortable and creepy.

As my mom and I get further out we couldn't miss the loud barks of the sea lions, here, and when we were on shore. We could look and just see how unusually playful the sea lions were today. When we got even closer to the sea lions my mom started to get nervous; I, on the other hand, was not because I myself had been in this position before.

All of the sudden, about seven feet away from us, was two very large sea lions! My mom started to get nervous; I could hear it in her voice. I had reminded her of the rules I had managed to create in case something like this would ever occur. The rules were stay afloat(so you wouldn't kick a possible sea lion swimming under you), don't scream (so you don't make the wild animal angry), and stay calm and back away slowly.

That's what we did. As we proceeded to use these rules, the sea lions came about two feet closer to us. As they dipped under, they were invisible, blending in with the water. Then after they stared at us for, what seemed to be a long time was probably only ten seconds. Then they were gone.

Freaked out as we were, we swam back really fast. This was the fastest we had ever swam back to shore. Then, we ate some chips to help calm our nerves. I then decided to go back out by myself. To stay safe I decided to find someone worthy of saving me in case something happened. I stuck with a man and his daughter, whom I didn't know. Then as I did something I don't usually do while I am swimming [because I feel I will scare myself]. I looked under the water, with a feeling that something wasn't right; then that's when I saw a sea lion swimming directly under me. I attempted to scream in a high pitch voice, that I thought for sure the man and his daughter would hear. I was wrong, they just kept swimming, so I was left to quickly swim back to shore.

Doing this, I recklessly got the strong, salty water in my eye. Then when I reached shore I told my mom. Instead of saying what I thought she would say she said, "So the sea lion was trying to give you a ride?"

We both laughed, and later on I decided to go back out and swim in the beautiful waters.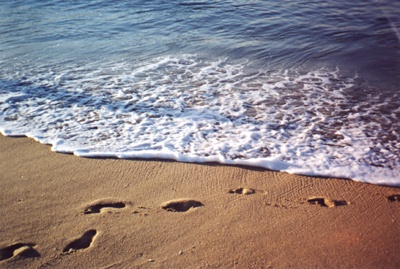 © Daniel M., Phoenix, AZ