Footsteps
September 27, 2011
I take a breath… I breathe in slowly and let out with a huge sigh. A smile over comes the blank expression just on my face a few seconds ago.

"Happy anniversary Babe… I love you"
And with that said it was just another day. During pass time you would meet up with her, when people asked you if you had a girlfriend, you would say it was her. But when in the hallway I could get that face we always made at each other. You would open your eyes real wide and pucker your lips together. Wasn't a lot but It sure meant something to me.
She still hasn't realized that I am the one who you go to in the middle of the night when you can't sleep, the one who you fight with over petty situations one day yet were back to being best friends the next. She doesn't know that a day doesn't go by when we don't tell one another we love them. She doesn't understand by giving yourself to one person it's a lot harder to forget them then you would think. If only she knew I referred to you as mine.
The first one I think of in the morning and the last one I think of before I go to sleep, you've impacted me in ways unknown. I don't have words to tell you how much I wish you could be mine, or how much I would give to be the one you call your girlfriend when people ask. I just wish someone would realize that when my parents told us we weren't able to be together anymore it wasn't the end… it was just footsteps in a different direction.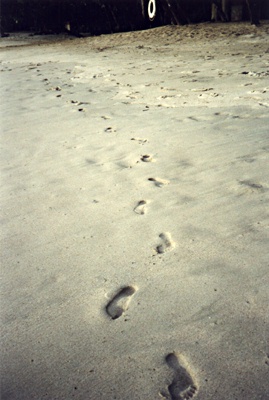 © April W., Rogersville, MO