Take Another Look
September 27, 2011
Look at me. No, again. What do you see? Do you see the pain? The 99.9% of me being sure?

I didn't think so.

About 500,000 people of all ages in the United States-including me- has been infected with a certain disease. Disease being a big word and all because most of the population will think you are nothing but a piece of "infected trash" that shouldn't be alive on this planet which we all share!

Well, do you want to get rid of a teenage girl? Do you want to get rid of somebody you love?

The thing is: this disease can only spread from blood relatives. So, you can't catch it from a touch or a sneeze! This disease is though uncureable-which is a horrible thought, but yet it takes disease in its name?

Well, for a teenager, it ain't pretty when you want to be the "normal" one.

Crohn's Disease gets worse over time and the symptoms are excruciating pain because I would have to make sure I'm near a bathroom and I would sometimes give up on special occasions with my friends! Even at school, I felt like I didn't want to be there because I would stay away from everyone and constantly leave to go to the bathroom.

I became a loner.

Soon after a long year of not knowing what was wrong with me, I dropped school and became homeschooled. I couldn't stand the pain no more or the taking of five to six pills a day to feel a quarter normal!

The thing is: I was never normal and I always knew that from fifth grade when the doctors didn't check for Crohn's. Of course it makes me mad, hurtful, and excruciating thoughts of hurting myself was unbearable for a teenager like me. Crohn's symptoms were so horrible that I hardly ate and then I became known as the "anorexic" one.

Crohn's Disease has ruined half my life and I wished I could have done things differently. I don't want it to ruin anymore teenagers lives, so hopefully you speak to your doctor (that's why God gave us mouths) and there are options instead of running away like I did. Take a chance sooner or later because you may end up like me who just let them pass by for years.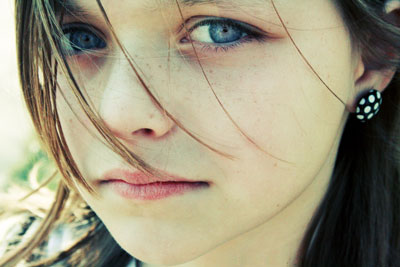 © Felicia R., Arlington Heights, IL