Silence
August 23, 2011
He is sitting down in my mom's bedroom, his long and slender fingers resting on the arm of the wooden chair as he stares out the window. I outline his profile from the doorway: his broad forehead, his small and feminine nose, and his thin, pink lips. Tracing his line of vision to the lone tree outside that is planted near the row of mailboxes, I watch with him as the golden sun shines on the brownish-yellow leaves that flutter without restraint in the gentle breeze. "One of the leaves is missing," he says, not yet breaking his gaze on the short, lone tree. "It must have fallen this morning." I turn away from the autumn leaves outside to look at my grandfather. He sits like a school boy, feet close together with his heels barely grazing the carpet, his shoulders stooping forward an inch. Blue veins run up and down the small patch of skin visible between his high gray socks and the cuff of his navy blue pants. The weathered, torn leather belt tightly clinches his bony waist. The slider on the zipper of his pink cardigan dances in the air as his flat belly slowly inflates, then deflates. His tiny Adam's apple quivers as he suddenly breathes in quickly and fully. His head of silver hair turns towards me, and his eyes soften from concentration to recognition. Wrinkles form around his eyes as his bony cheeks rise and his thin lips open slightly. I smile back.


He is lying down on a small bed. His head droops to his right shoulder, and he breathes as softly as a sleeping infant. Through his open gown, I see the protrusion of his ribs and the scar from his stitches that run down from the middle of his chest to his belly button. His chin is grizzled with stubbly hair, the first time I have seen him unshaven. His handsome face has bloated to the point where his eyes are swallowed up within the folds of the surrounding skin.
Suddenly, one of the machines next to his bed beeps loudly, and I snap my head toward the direction of the sound, attempting to decipher the meaning of the bright yellow numbers on the screen. A nurse strolls into the room, carrying an empty bag with which she replaces the nearly full bag of urine. After the nurse leaves, I walk toward my grandfather who remains unconscious. At the foot of his bed, I put my hand under the wool blanket and stroke his grayish-blue feet which are as lifeless and as cold as a tombstone. A sharp gasp escapes my throat as I rub my hands against his feet with more intensity, yearning to make them warmer and more flexible. I stare at his face through a watery curtain, and I sense the veins bulging from my neck as my throat constricts. He says nothing.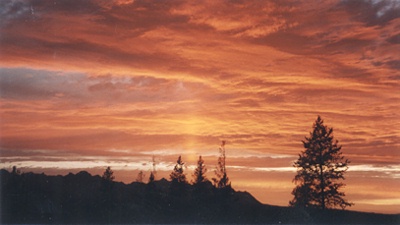 © Katy B., Challis, ID