Summer, Sunshine, and SATs: Part One
June 30, 2011
So, here I am in the third week of my riveting and ever so enthralling SAT summer prep course. That's right. Five days a week from nine to one for ten whole weeks. Started the day after school let out, ends the week before we go back. Along with my three insanely difficult summer assignments, volunteering weekly at the local hospital, and attempting to keep up what little I have of a social life, I can't say I've truly gotten a break. Which is why when people ask me, "How's your summer?", I simply reply with, "What summer?"

But it's not that bad, I guess. It could be worse—I could have a repeat of my eighth grade summer: stay at home nearly every day, watching Full House and Gilmore Girls for seven hours straight, eating copious amounts of junk food (yes, I actually used an SAT word!) and making as little contact with the outside world as possible. So even though I'm stuck in a tiny room having test taking strategies and vocabulary words drilled into my head for four hours straight, at least I'm not gaining weight, ruining my already poor eyesight, and am being forced to interact with other people.

I'm taking the class in a highly Asian-congregated city, so it's pretty intense and competitive. Since I live thirty miles away in a small town without many Asians, coming here was culture shock. The place was packed with Asians and Indians! Initially, I was actually feeling uncomfortable being with so many people of the same race.

Thankfully, I have two of my really good friends taking the class here with me as well, Ashley and Joyce. They make things much less awkward. Well, used to. You see, I was placed in the regular class and had already been in there for two weeks until last Monday morning, when I was essentially ripped out of my seat and thrown into a higher level class where I knew no one and was the lone Indian.

I like this class much better, though. The kids in here have mainly American accents and are—please excuse my shallowness, but I'm a fifteen year old girl living in America for Pete's sake—much better looking, which makes this course a little more bearable. Plus, it's kind of funny to see how our instructors treat each level differently.

In my lower level class, we'd sit there and do work constantly, and the room was always dead quiet. In my higher level class, people were continually talking (rather obnoxiously, too) and the instructor would finish fifteen minutes and then just sit there, discussing random topics with us the rest of the time. One day, we even played Pictionary.

I've made some friends, though, and I'm actually enjoying spending the summer in a different place. After the class is finished, we sometimes walk to get food at the little boba shop down the block, where one of the guys in my lower level class, Jonathan, works part-time. It's nice just spending time with people, outside, in the real world. It's these small parts of my day which actually make it feel like summer, and I'm grateful for it.

Now that I'm starting to get comfortable with everyone, it's not so bad anymore either. I'm friends with Paul, who sits next to me in my higher level class, and Stephanie and Amy in my lower level class. Daniel, who's in my higher level class, has a cute smile, and he's funny in a nerdy way.
So for now, I guess I'll just have to push myself through the next seven weeks of the course and enjoy it every now and then. Who knows what could happen in all that time?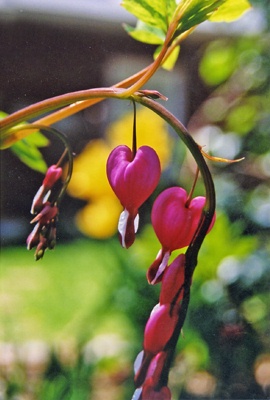 © Sophia E., Wilmington, DE