Snow White Hunting
June 14, 2011
Winter settling in, the wind bit at my nose as the wind does in early January. The leaves were vacant as they are in elk season in Bonners Ferry. I had with me an elk hunting legend, and he unpacked our gear from the old Ford pickup we had driven. We parked and left the faded blue vehicle standing in the snow as we began the trudge through the white to set up camp.

The trail was buried beneath all the snow, but the guide knew his way and led us up further into the winter wonderland. The clouds were grey, snow threatening to fall. The breeze was crisp and sharp, stinging flesh and chapping lips. The trees were bare, and silently we trudged onward.

The banks began to grow deeper, crawling up our legs as the ridge we climbed started to bank down into a rocky valley. The canyon was a known migration spot for elk to pass through, and we hoped to nail our prize buck. The guide took me down into a sharp decline that rose steeply to the left and came out onto a dry rocky flat, big enough for several cars to park on, and sheltered by a shelf of worn rock. The perch looked out over the valley as it disappeared beneath us, a granite grey mountain landscape, powdered in fresh snow, the leave-less birch tree's thinning in numbers as the dark sea of evergreen's rose tall the deeper the valley fell, the green tops covered in snow. A crystal river of pure blue ran down at the bottom of the gulley, bouncing and gurgling down the white rocked river bed.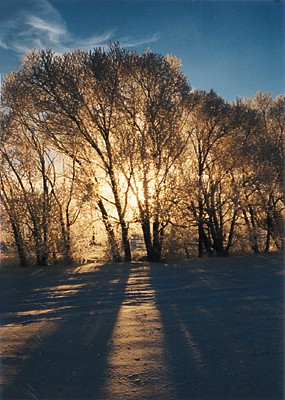 © Kyle G., Badger, MN