My Life
May 14, 2011
When people talk about their childhood usually there is tears and laughter. There has been many memories I will never forget, and many heartbreaks that have made me the way I am today. I am filled with many stories that will live on forever. My childhood has been very challenging but then again with my friends and family it has been very easy also.

When I was born I lived with my biological parents, my half sister, and blood brother. We lived in a trailer, my dad worked like crazy and my mom didn't work very often. At the age of 9 months, old my mom filed for divorce and after that my life changed forever. My mom was on drugs and an alcoholic. She accused my grandparents of kidnapping me and my brother when they took us to the doctor. We got put in foster care for 2 or 3 weeks. She lied to the judge and was put in jail. The divorce lasted 18 months. A couple of weeks before I turned 2, she signed over all her rights as a mom for me, my brother, and my half sister. It was heart breaking when I found out what happened with her. The first time I met her was last year. I have had no more contact with her since then.

During the divorce my dad moved in with my grandparents. Till the age of 8, I lived with my dad, brother, and grandparents. My life as a younger child was very easy. My dad was dating my step mom at the time. In 2004, they got married and I got a new step sister. In 3rd grade, I was diagnosed with ADHD. My 3rd grade year was full with memories from getting a black eye by running into a grill to jumping on a running treadmill and breaking my collarbone. In late 2004, my step mom, Charity, got pregnant with my little brother, Phoenix. I wanted a little sister but you don't always get what you want. My little brother was born on October 31, 2005. I am very happy I have a little brother.

Then middle school came. I almost didn't pass my 5th grade year because of my ADHD. My mom and I had to go up to the school and persuade them to let me move on to the 6th grade, they said yes. My 6th grade homeroom teacher, Mrs.Helmuth, taught me to basically read again. My 7th grade year was pretty normal I just hit the stage that I was very rebellious. My 8th grade year, I got in a little trouble and got ISS but after that I straightened up and got back on track. I had good grades through out those three years.

Middle school went by very fast. Now we are in high school. High school is so much different than middle school. In middle school, everyone knew who everyone was but now you just know your friends and that's all. In high school, there is also the temptation to do drugs, drink, or have sex. You have to be strong enough to say no to all of those things or you are going to have a hard time. My grades started to slip this year. I wasn't doing so well in any of my subjects. Trust me freshman year is hard and I still have a little longer to go in freshman year but I am making it through with the help of my family and friends.

My life as you can see has been very interesting. All the stories, memories, lies, and heartbreaks have made me stronger as a person so I can help others. I am not a selfish or lazy person. I love helping people and fixing problem. I am a drama queen. I am clumsy and have ADHD. Most importantly, I am me! No one can change that.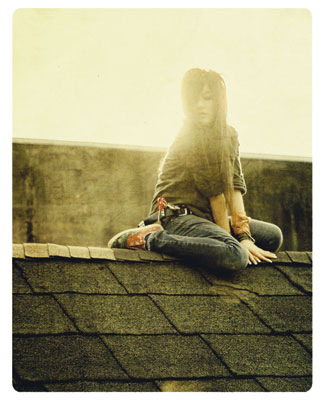 © Hailey J., Lake Oswego, OR