Duty Calls
May 2, 2011
Have you ever lost a loved one? Not perminatley but for a long period of time. Last april I lost my cousin for six months. I didn't know he had to go to court the day I stayed home. I wasn't feeling well for the past week so I decided to stay home and rest. Luckly both my parents were off that day. They had scheduled to look at a house. We were planing tomove then but we didn't. anyways I had to go too. When we pulled in to the driveway, my dads annoying phine rang. My mom answered and I could hear my aunt balling on the phone. I could only make out three words…….jail…….six……..months.
My breathing increased to a rapid pace, tears stinging my eyes, but I stayed strong. The car ride to my grandmothers felt like an eternity. Finally pulling in and seeing the house my cousin used to live in made my heart flip and fade away.
Walking into a dead silent home, with a small, golden pooch gretting me. We found my grandmother catching some z's in her soft, fluffy recliner. My over stressed mother woke her and explained the heart renching news.
For the first month I was always in his room. His deathly, evil clown whatching my every move. His obsessed ex – girlfriend sending him disgusting photo's.
I sent him a two page letter every week. I always included a picture. When my birthday rollled around, he sent me a amazingly awsome picture. It was a large, plump rose ripping through the page. Right above the rose was my nick name and the words "happy birthday".
Finally I relized that it was better for hime there. The years of depression and drug use was washed away. Even though he was in a dark, scary place, its better then the real world. A new start would come….untill he came home.
We were always close, we were more brother and sister the cousins. Lets just say jail changes people and not always in a good way.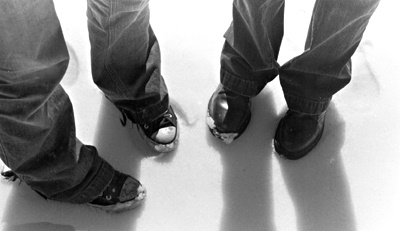 © Elana N., Marblehead, MA