Higher Than the Sky
April 13, 2011
Higher Than the Sky

All I can feel is the wind gently blowing on my face and the sun gleaming down on me. The only indication that I'm not on the ground are the trees beneath my feet. I'm soaring through the sky, aided with cords by the largest pink cloud in the sky. The sun is high in the sky on this warm summer day. Absentmindedly I think to myself that my surroundings are a ruse. That this feeling I've been having since I began my assent into the heavens has been nothing more than a fantasy. I guess that makes sense considering the stress I've been experiencing lately. The school year is rapidly approaching; yes of course that's it. Then I blink; once, twice, three times, but I'm still high in sky. The ocean below me sends an omniscient gleam to my place in the sky, as I hope this moment doesn't drown. Below me I see the power of my happiness. A tiny black boat with an engine made for speed.

It began about three days ago, when I arrived to my destination with my friend's family. A week away to spend in the sun with my best friend was just what I needed. So, I packed my bags and headed u p about four hours to our vacation in Lake George. Because she went every summer, her stories reassured me that the week we were planning was going to be memorable. Since I've been here, everything we've done has been an adventure. Exhilarating, crazy, events that have made this trip worthwhile, but today; just bliss awaits me.
Then, she hits me with it. My friend gives me her idea for the day ahead. Parasailing for two people who are absolutely, dreadfully afraid of both heights and drowning. Life couldn't get any better right? If I'm afraid of heights then why would I want to be eight-hundred feet in the air over a body of water? I mean it doesn't make any sense. I can just back out right now and it'll be fine. I can just go, and it will probably be for the best right? Nerves fill my normally calm state of mind, as they strap me in. I guess I'm out of time to decide. Under me is the power of the motor, and I feel as if I, myself, can control the sea. I'm just going to do it. Jump. I mean seriously, what's the worst that could happen? I hear the motor and feel the wind zooming past my face as I prepare to go.
"Okay, I'll go on three. Ready? One, two, three..." I take a small step, and away I go. I scream as I feel myself being propelled backward into the skies. Slowly, I'm brought to my rightful place above the sea, only to look around and audibly gasp at what I see.
Up in the air all I smell is the ocean and sweet smell of summer, still lingering in the August breeze. The sun is momentarily hiding behind a cloud, as we drift by, giving off a filtered glow from above. I feel the absence of ground beneath my feet, as the wind carries us gently through the air. After all my worrying and being afraid, all I feel is bliss. Up above the trees, nothing matters, and all my problems are momentarily silenced. If only for a moment, I can drift away.
I snap back into reality by the gentle tugging on my vest. I've been in the sky for almost fifteen minutes, and there are others who would love to be the next ones to go. As I fall from my cloud, I get the overwhelming feeling that my experience was only a dream, one that I could remember for years to come. Up in the sky I was flying, and now I'm all out of pixie- dust and happy thoughts.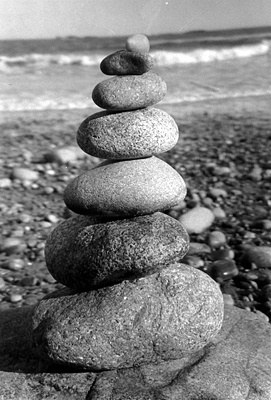 © Vanessa R., Marblehead, MA