Across the Street
April 3, 2011
I walked down the street, making entertaining but pointless conversation with my friend as I walked with her to a white house with blue trim just down the road from my own house. It was quite dark out, well past ten o' clock, and my small neighborhood had no street lights. Trees loomed over either side of the road, and the fragments of light that decorated the black pavement in front of us came from the house that we were walking to. We slowly crossed the street as the two roads formed a T, and I suddenly found myself stepping onto the pale gray driveway of someone's home. Now of course, this someone was not just anyone. This was a very certain someone who I had had a varying crush on since he had moved to my neighborhood in second grade. Setting foot on his driveway sent memories and feelings charging through my like electricity. I hadn't walked so far across this one segment of the street in at least a year. My head was suddenly filled with the days that we walked home together, which was nearly every day, when we would talk of school, movies, and pointless things that made my heart race, just because I was getting the chance to have him all to myself for a few precious minutes. We would reach the small segment of street that was connected to his house and I would watch him walk up his driveway and disappear behind the navy blue door that held so many mysteries.

But now my mind was running in a different direction, like a creek reaching a turn. One thought led to another, and it was so predictable, yet I always felt the tickle of butterflies in my stomach as my thoughts began to play out the day that I had had him to myself for hours. As part of a school project, we had gone around the neighborhood asking for donations for one charity or another. Thousands of sensations flooded through me; the taste of a freshly baked chocolate chip cookie, the sweet pain in my stomach as I couldn't stop laughing, the crisp bite of a cold breeze brushing my face. Though it was the first thing that had brought me to him that day, reaching his door was always the last memory to play through my mind when I thought of him. Nerves ran through me and I seemed to be short of breath. I realized that the moment I was remembering was happening to me right now. My friend and I had walked up the driveway and over the narrow path that lead to the front door. I realized how odd it was to be so close to this door. I was so used to looking at it from across the street. The dark blue door stared me down, challenging me to reach out, to grasp the shiny gold doorknob, and open the door. An eternity stretched out before me as I looked at the door, dumbfounded. My whole body was paralyzed, and all I could do was look uselessly at the unmoving doorknob.

The eternity ended, though, as I realized my friend was looking at me, waiting for one of us to do something. "Do we just go in?" She asked with a shrug of uncertainty. I nodded confidently, but stepped back to allow her to open the door. She did without hesitation and just like that, I was walking in to the house, into the mysteries that had been held away from me for so long. I could just hear the soft murmur of voices coming from upstairs. I began to take off my shoes and was greeted by a liver brown springer spaniel, who started jumping up, trying to lick me. Seeing as I own three cats, I didn't have the faintest idea of what to do in such a situation, but my friend did. "Down Sailor, down." She ordered confidently and stepped on the dog's leash. She had said her parents were good friends of the family, but I hadn't guessed that she would know them so well too. She gave Sailor a couple pats, then ventured upstairs. I followed, uncertain of how long I should stay, as I was just supposed to walk her over and go back home. I got up the stairs and said hello to the two families seated across from each other and listened for a minute as they finished what they had been saying. My friend walked over to her mother, and I stayed on the top stair. I wondered what I was supposed to do. I didn't seem to have a place to be in this room full of parents and siblings. I was about to say goodbye and leave as quickly as I could when my friend's mother started thanking me for having her over. I nodded and said something about how it was no problem, that we had had a good time. My friend stepped away to hug me goodbye and I acknowledged the rest of the room with a wave goodbye. I made my way back downstairs and slipped on my shoes. I didn't look back as I opened the door and walked back onto the driveway. I hardly noticed as I stepped onto the dark street. Leaving it behind, it seemed, was infinitely easier than approaching it. When I reached the T I began to jog, drinking in the cool night air and the sense that, after five years, I was no longer unwillingly bound to my second grade crush.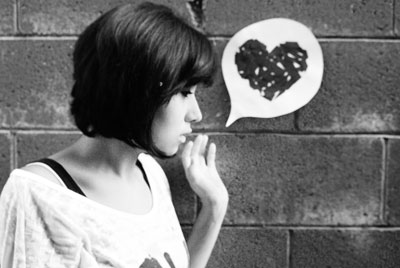 © Michelle B., West Covina, CA