This artifact was my grandfathers
April 3, 2011
This artifact was my grandfathers. It is the Italian Horn. This was given to me when he passed away when I was in 5th grade. This necklace means more to me than just my Italian heritage, it reminds me of everything my Nonno and I did together. Out of the 7 grandchildren, I was the one to receive this. This did not go over well with my cousins. They fought about it for the first couple of weeks with my grandmother. One of the oldest told me I did not deserve it, but I knew I was the one he wanted to give it to. Nonno and I had a special bond.
We are both stubborn. My mother says that I act just like my grandfather, from faces I make to jesters, and even the way I say certain words. He nicknamed me "bella stella mia", translating to "beautiful star of mine." Every Wednesday afternoon, he would pick me up from my bus stop and we would go about his daily errands. He was in the Dante Alighieri, and Italian society residing in Boston. We would go there often and I would watch him speak to all his peers so strongly and distinguishingly. He was also a writer of the Italian magazine INCONTRO. I remember going back and forth with him delivering mail to the headquarters, being so proud that my grandfather was "famous" like he had always told me he was.
One of my fondest memories was when my brother cut one of my ringlets off, and I cried and brought it to my grandfather to of course, get Alex in trouble. He took it and kept it in his wallet, then after yelled at my brother which brought me joy. My ringlet is still there today in his wallet, in one of my kitchen drawers. I felt so special since I was the only one with hair in Nonno's wallet, which I of coarse bragged about to the rest of the grandchildren.
Another memory of my grandfather that makes me laugh is when one time; a young boy mistook my grandfather for Santa Claus. It was summer time, and we were at our favorite ice cream shop called "Smugglers". My Nonno had a big belly from eating a little too much. He always said he felt bad for the skinny, fit people since they, "didn't get to enjoy all kinds of foods ",as much as he did. My grandfather had a white coat of hair slicked back, always had a smile on his face, a very jolly man, but had no beard. When the boy jumped about screaming Santa Claus at him, he told the boy in his thick Italian accent that, "I has to shave the beard because it summer time and I get a really, really hot". I remember feeling so important, like royalty; Christina Vickers, the granddaughter of Santa. In my eyes, Nonno could do no wrong. He was the best.
My grandfather was my rock, and I will always thank him for being there for me whenever. His necklace reminds me of his morals. He used to tell me to "never let people in your mind unless they deserve the space." I didn't really understand it at the time, but it has now brought me comfort in recent years. My grandfather's necklace brings me back to my childhood, where nothing could go wrong. Wearing this necklace makes me feel indestructible, no one can hurt me. The necklace is the one thing that was always next to his heart, and is the only physical memory left. I do believe I am a different person since he passed away; the shock of what had happened is still tingling, even after six years. I still have never found out what caused my grandfathers death, nor do I think I ever really want to. To me, he was invincible.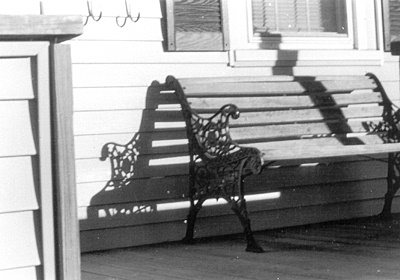 © Lauren O'D., Weymouth, MA