Scary Movie 5
April 3, 2011
This summer I thought my house was haunted. Everything I did and everywhere I went I thought someone was watching me or someone was in my house. I was always on alert just in case something happened. Noises would come from my basement when I was in my kitchen, I would hear footsteps upstairs when I would be downstairs, and everything would just be noisy in my house when I would be alone.
One night I was watching a scary movie with my best friend. My parents were outside with their friends so I was comfortable with watching a scary movie besides the fact I thought my house was haunted. My friend and I were minding our own business, watching the movie when all of a sudden my basement door closed by itself. I saw the whole thing with my own eyes. The door was open one minute and the next minute the door was slowly closing and then it slammed shut. My friend and I screamed and we almost peed in our pants because it was so scary. We had to stop the movie and go investigate. We got kitchen utensils like a wooden spoon, tongs, and a steak knife just in case someone was down there. I turned the lights on in the basement and nobody was there. When we went downstairs to look around nobody was there. No one was hiding in the closets or in the washer and dryer area.
I thought we were safe until we heard a door slam shut upstairs. We ran upstairs to see which door shut. It was my sister's door and she was not home.
"This cannot be happening right now" I said to myself.
I was getting so nervous I did not know what to do. Scary movies are not my favorite genre of movie and now I am living my own scary movie. I could see myself looking into my sister's room and nobody would be in there and then someone in a mask would come up behind me and start to stab me. Thankfully that is not what happened. When I looked into her room nobody was there but, her window was open. The wind was the one that slammed the door shut. I should have known it was the wind because that was not the first time her door slammed shut all by itself. Then I started thinking that the wind shut the door downstairs but, the windows were not open down there. Maybe the basement widow was open but I did not check and see if it was open. How the basement door shut by itself still remains a mystery today.
That night when I went into my room I turned on my light. My light has a remote that turns it on. As I was getting ready to go to bed my light turned off all by itself. I got a little freaked out because it was dark but, I went over and turned the light back on. About ten minutes later the lights went off again which made me a little nervous. I switched the light on again and continued to get ready. Another five minutes passed and the lights went off again. This time I ran out of my room to get my Mom because my Dad was sleeping. She came into my room and she said that the wiring is messed up in the light and that was why my lights kept turning off all by itself. That made me feel so much better but, before I went to be I had to text my friend and tell her about my light because this would make her laugh. We really thought my house was haunted and we were living our own scary movie.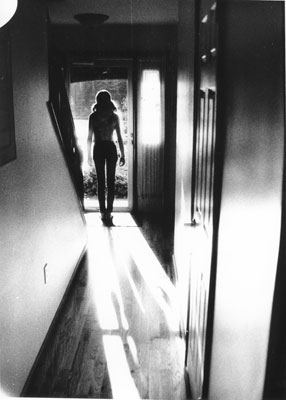 © Mike V., Morgantown, PA