Bad Dog
March 31, 2011
Bad Dog!
Who let the dogs out (woof, woof, woof, woof)
Who let the dogs out (woof, woof, woof, woof)
("Who Let The Dogs Out", Baha Men)
Wow that was embarrassing! My dog was only 2 years old, and already a trouble maker.
It all happened in the middle of summer one year ago. The sun was out and shining, the skies where as blue as ever, and my cute little puppy walking by my side. My dog is a chocolate lab so by then you can imagine how big she was at two years old.
My mom, mom dog, and I cheerfully walked into a pet shop, wondering what to get Milly. When I walked in I noticed the cranky old lady that has been working there forever, but my mom and I have learned to just ignore her. I was holding my dog and looking at greasy, slimy pig ear bones for her, when all of a sudden she saw a cat. At first she just looked at the cat with vicious eyes. Then she started to bark, and before I knew it she yanked the leash out of my hand and was running full speed towards the furry animal. As she ran her leash knocked down thousands of boxes with bones in them, all the bones smashing on the floor. The cranky clerk stared at me and my dog with anger in her eyes, and screamed at us to get out. My face was burning up and I could tell it was as red as cherries.
My mom and I grabbed my crazy dog and ran out as fast as we could. My mom was lucky enough to have purchased a bone for Milly before the incident happened. We walked over to our car, about ready to leave, but I insisted on giving Milly the bone! My mom said it was fine, but I had to make her sit first. So as my mom stood behind me I threw my hand back, bone in hand trying to make a sitting motion for my dog to understand, but instead the bone hit my mom and the greasy pig ear was all over her cheek. That was embarrassing.
From this experience I learned to never try something that I'm not sure about, sometimes I will still try, but experiences like this are not a good idea.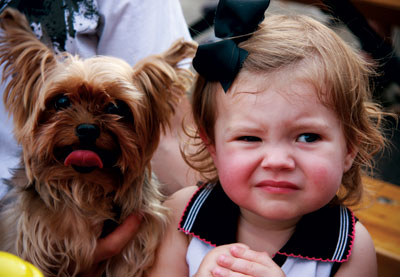 © Julianne D., Louisville, KY