Salvage
March 24, 2011
I sit silently in the cool, crisp air as fellow competitor's line up next to me. Around me, 20 engines drone as we prepare to launch out of the starting gate. An indescribable feeling overwhelms me as I stare at the first corner. Many racers won't make it to the dreaded first turn without falling victim to the chilly sludge water. Taken over by the terrible conditions and my inexperience, I can't help but think about everything that could go awry. My mind transforms into a kaleidoscope of fear, self-doubt, and panic. My heart races in the pouring rain and 45 degree weather. Wrecked, beaten, and almost in ruins, the track will be home to many crashes today, including my own.

Driving to a small town in Maine for a motocross race, some 200 miles away, was a difficult decision. But it is one I'll never regret. All my practice dwindled down to this moment. Sitting at the starting gate, I couldn't believe I was going through with this. One by one, rain drops begin to tarnish the flawless condition of the track, as well as my self-esteem. I seized a gulp of the exhaust tainted air, and started my bike in preparation for the competition. As the gate dropped, the racers exploded onto the track undertaking the challenge of being today's victor.

Mud oozed off my jersey as I pushed myself out the soggy muck. One after another, racers hurdled by me, swerving, trying to steal my position in the race. After swiftly gathering myself, I stretched my leg back over my bike in an attempt to salvage my lost position. The part I feared, the part everyone fears, falling, was behind me. Silly, I felt, fearing such a minuscule aspect of the race. My inane trepidation of falling overshadowed my enjoyment of the race. The minute I was back on the track, confidence swept over me like the storm that barreled through us that day.

Looking back at it now, choosing to race that day was the right choice. Richard Bach once said "Some choices we live not only once but a thousand times over, remembering them for the rest of our lives." Ironically, images from that dreary day raise my spirits and push me through the daunting decisions in life. Success shouldn't be measure by how much is achieved, but by how much effort is put forth. A first place finish didn't happen for me that day, but in my eyes it was a victory. Not only because of the amount of effort put in to finish the race, but because I now realize I shouldn't be afraid of failure, especially in something I find joy in. Our potential can lead us anywhere, and this experience gave me a clear view of where my potential can direct me.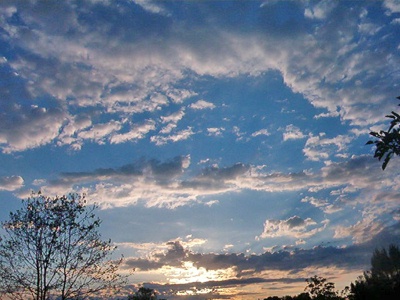 © Kaitlin M., Vincent, OH