The Guy Outside
March 22, 2011
It was hot, sticky, smelly, noisy, humid, sweaty, damp, crowded, all of the above. I had just gotten off a twelve hour flight to India; my ears still hurt. I wondered where the foot paths were. What were dogs and cows doing roaming around? And what in the name was that foul smell? My eyes were drooping as I toddled to the rented car with my family at least twenty paces ahead. Seven of us squished on top of two rows of seats (the suitcases occupied the third and the roof of the car). Why did all of them (grandparents, cousins) have to come? The notorious six hour car ride wasn't going to be pleasant.

I woke up two or three hours later in the car with a sharp pain in my stomach. I was hungry, and thirsty. There was no way I would've eaten that moldy airline food. Anyways, we were stopped at a traffic light. My attention was diverted to the window as I heard a light knock. There was a guy there. Well he wasn't exactly a person. I think he was blind in his left eye. Or at least it was bandaged. He was thin and frail. His teeth were twisted, missing, and dirty. He had crutches…or actually just a crutch. Half of his right leg was missing. He had white dirty clothing. Or what was left of it anyway. What was he doing there?, I wondered. He was tapping his mouth with his hand. I realized he was asking for food or money. Without thinking I was about to open the window when my grandfather swatted my hand hastily. But he's hungry I thought? Why not give him something. I looked to my parents for help but they were fast asleep; ignorant of the problem at hand.

I felt depressed, angry, confused, helpless. There was a man suffering in front of me. I had never seen a person without a leg; those people are supposed to be in the hospital I thought. And it wasn't just him. There were more; children, women, even babies who didn't even seem to be a year old. I really thought everyone was crazy or I was imaging things. If only I had saved some of that airline food. I could've helped them then. I could've.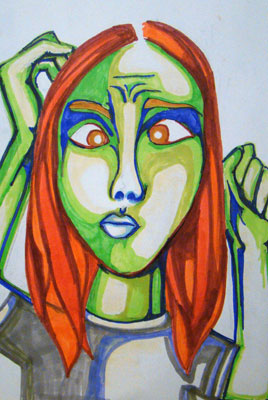 © Michelle L., Syosset, NY