What Not To Do
February 5, 2011
This is the home you left behind. It's not quite the same without you here, but then again, you left a long time ago; mentally and emotionally. The basement is vacant; you took the crimson furniture we hardly ever got to use.

This is the upstairs living room. I can clearly recall family game night. That fell apart when Justin went to jail, Jesse partied with his friends, and you sat with annoyance on your face. I'd bring the games out, but you gave the excuse you were tired, and dad was snoring on the couch. The nights grew further apart and the light that shined in my eyes began to dim, and eventually flicker out.

This is the bedroom door. At times, I'd lean my ear against a poster and strain to hear anything at all. I completely ignored the warning it shouted: Get away, save yourself before you hear it all. But the poison had already set in, you began to talk. When you thought I was asleep or preoccupied, I stood there, hearing every conversation. This went on for years, and I was the only one who knew.

This is the dusty vase that your roses sat in one Valentine's Day. Don't you remember that night? I do...all too well. I had smiled as you walked up the stairs with a bundle of flowers. In a good mood, I was already up and grabbing the flowers to display on top of our television. You sat in my seat, a foreign look in your chestnut eyes.

"Who got you these?" I asked, but already knew the answer...or so I thought.

"My boyfriend."

The room was packed with my laughter. I turned to look at you, and saw the dead seriousness of your face. My smile had never died so quickly. Confused, I looked to Brittinea to get a hint of a laugh. It didn't happen. I put the vase on the stand and walked to my room, gripping the sides of my Tweety Bird nightgown. How could you be so blunt? You know I wouldn't have understood, so was that your test, just in case I had?
Justin, Jess, me, a family; this is what you gave up for someone who might not want you one day. We were here, we always were. Not anymore.
For so long I've wanted to say how much I hate you; I don't miss you.
But I'm glad I knew you.
You taught me what not to do.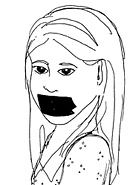 © Liza M., Vineland, NJ