Concrete Angel
February 22, 2011
The day was July 4th, 1987.



The day that the life of my uncle would change forever.

Who knew that an event that happened before I was born would have a deep, everlasting impact on the life I lead today and the decisions I make. Today, he stands hunched, and unable to walk normally. Despite his disabilities, he leads a happy life. Yet, that Fourth of July night twenty-three years ago lurks in his mind with each passing day.
Uncle Ken, who today is forty-eight, faced a life changing experience that night in 1987. I know my grandparents do not want me knowing why my uncle is the way he is, but my mother told me so I could learn from his mistakes and see what consequences can result when not taking proper precautions- those of drinking and driving.

On July 4th, 1987 as a party he was attending was coming to a close, he and another one of his friends hopped in a car; both being immensely intoxicated. My uncle, being the passenger along with the driver of the vehicle, did not have their seatbelts on. Due to their blood alcohol content, the driver lost control of the vehicle, crashing into a tree. The driver was pronounced dead at the scene, while my uncle was life flighted to a hospital in Pittsburgh.

Suffering from numerous broken bones, facial fractures, and other chilling factors, it was certain that he would not live to see another day. A priest even gave him last rights. They were sure that my uncle would float among the angels. It was only a matter of time.


When all hope had been lost, the grace of God reached down from the heavens and gave my uncle the power to survive. God was not yet ready for an angel like him.


Many months of surgery and rehabilitation would soon follow his accident. This then left him with one leg shorter than the other, which is why his walking abilities are challenged.


After going through a near death experience and being given a second chance at the most precious thing called life, most people would never even touch alcohol again. This was not the case for him. After he was healed, he continued to drink and drink. At times, he would even disappear for a few days. But one day, something hit him.


He woke up one morning and he knew he needed help. By signing up for Alcoholics Anonymous, he received the help and guidance he needed. This gave him the courage and strength to look at his life from a different perspective, and to never touch alcohol again; which has been a success.


Today, my grandparents still have not told me what happened that Fourth of July night. All I have been told from it was, "wear your seatbelt." I have come to think that they believe that if they tell me, I will think differently of him. If anything, I now respect him more. He reads the bible every day, and now realizes that each day he lives is a precious gift.


My Uncle Kenny is a walking miracle; a concrete angel nonetheless. He is my inspiration for his accomplishments in overcoming his challenges and being given a second chance at life. I know what can result from alcohol abuse and drinking and driving. His story inspires me to live my life to the fullest, and not to take any day for granted.

He is my walking angel..

My concrete angel..

My inspiration.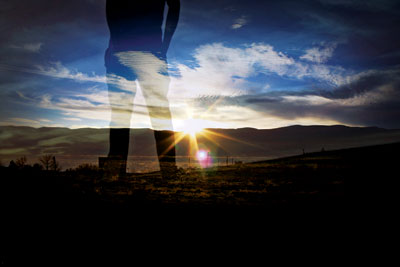 © Ezekiel R., Las Cruces, NM