Proud Big Sister
January 29, 2011
As an older sister, you have a strong bond with your siblings. As you grow older you become proud and honored to call them your siblings. They do incredible things that make you so proud your jealous. I am in that spot right now.

I'm 14, and have been writing for a long time now. I mostly write music, and it is my passion. It gets me through everything, so like I say, music is my life. I have a 12 year old little sister who has recently made us all incredibly happy by picking up the bass. We have had the luck of growing up in a musical family, so we know good music. I grew up listening to classic rock, and so has my sisters. As we grew older we all developed a different taste. I love everything from Bruce Springsteen and The Who, to Sublime and Bob Marley. My oldest sister likes country music, but is slowly moving to Alternative. My youngest sister is obsessed with the band Weezer. They are her influence for picking up the bass. She followed my older sister, who also played the bass, but slowly left it after getting a job.

My younger sister's name is Savanna. She is only 12, and has been playing Bass for 5 months and can already play every weezer song, and everything she hears. She has had my jaw dropped many times, she will literally hear a song, look down at her bass, and play it perfectly. She has amazed me recently by standing next to me, and saying "Look," and playing Californication by The Red Hot Chili Peppers.

Its amazing to see someone who you love so much, take up something that means so much to you, but in her own way. For me, its writing, and for her, its her bass. Music is such an amazing thing to be addicted to, it can get you through your worst of times, and keep you going when your at your best.

Savanna is currently 1st chair in her Middle School band class, and is loving it. She goes from playing Ode To Joy for band class to Gone Daddy Gone by The Violent Femmes for fun. We all enjoy savanna playing her bass, and are excited to hear the new songs she learns everyday. She lives life through the beats of her bass, and that makes me the most proud big sister ever. I hope she continues doing what she does, and being the coolest kid ever.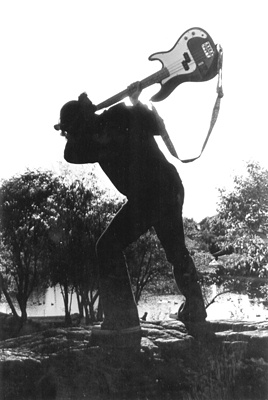 © Liz C., Marblehead, MA