Hoodsie Cup
January 28, 2011
Ever since I was very young, I have always loved animals. Dogs, cats, horses, birds, anything. Dogs are my favorite though. Of all the dogs I have had have been good dogs, except Hoodsie. She peed and pooped in the house, was really lazy, and always curled up under my bed sheets, which got little white hairs everywhere and made me wash my sheets often, but I loved her anyway. We saved her from being put down. She was going to be put down because the shelter that my mom worked at has a rule that if an animal is brought back more than three times for the same reason they get put down. Even though she loved to be around people, lay in the sun, eat, sleep and be around people some more, I guess that wasn't enough. For us though, it was. My whole family fell in love with her and decided to try to train her. But, she loved me the most.

I always did the most with her, whether it was taking her for a walk, or feeding her, or even picking up some of the messes she had made. She was my shadow. Almost everywhere I went she would follow me. We also had three other dogs, Shelby, Cody and Kelsie. We named her Hoodsie Cup because she is a liver dalmatian, which means she has brown spots instead of black ones and she reminded us of those ice cream cups that are half vanilla and half chocolate. Shelby was a black lab, Cody was a chocolate lab, and Kelsie was a cocker spaniel.

We got Hoodsie after we had the other three. Kelsie was already starting to get old and Shelby and Cody were around 3-5. So when my parents got divorced my mom took Shelby and Cody and left Hoodsie and Kelsie with my dad. Soon after my dad had to put Kelsie down, so it was just my loving dog, my cuddle buddy, left at my dad's house. She wasn't really showing the signs of aging because she was a very hyperactive dog, always running around the house, inside and out. Even though she loved to go places with us, she would not go swimming. For a dog this was weird, she hated water and would almost never go near it. Hoodsie only went in the water when she was getting a bath or it was too hot for her. The only other exception, was our sprinkler. She would run through it with us, as playful as can be. Hoodsie was one of those dogs that has a very parent-like personality, if we would fall or get hurt in any way, she would be there to lick our faces and our "boo boos."

It was only one or two years before Hoodsie died that she started to act like she was getting old. Hoodsie started to sleep a lot more, but I didn't care. We still had our walks (or runs) through the woods, and we still watched t.v. together. Life, it didn't really seem to change much, the only other difference was that she got tired a lot more. Since Hoodsie was never house trained and she still had accidents, but it wasn't that often anymore. We got her a crate and put her in it when we left the house. It worked, she never had accidents in it, and she loved to be in it. Even when we were home she would sleep in that cage. It helped for thunderstorms, which she hated, she would hide under anything she could.

Hoodsie was the best dog ever. She loved people, food and the warm, sparkling sun. She was loved by us, and every person that met her. She could make any non-dog person love dogs. My dad still tells the story to people of when he first met her. My mom introduced her to my dad one day when he was helping out at the shelter. By telling him to take her for a walk, and when he got her outside she stopped walked over to my dad and sat on his foot, leaned against his legs, and looked up at his face with "boo-boo eyes." My dad's heart melted. So, she became a part of our family, our lives and our hearts. This is my favorite story, out of all the stories my dad tells, this would be my favorite. We miss her so very dearly. This is the story of the one dog who change the lives and brought together a family through some hard times. I'm sad that I didn't get say good-bye to the true "man's best friend" who was my best friend.

R.I.P. Hoodsie, we love you with all our hearts.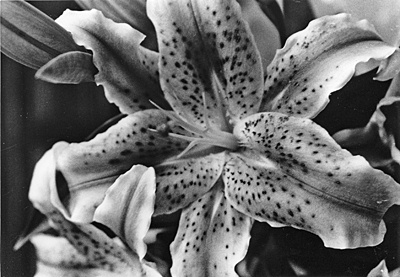 © Jenni W., Jackson, MI