Live for Today
January 13, 2011
She was the kind of girl you would look at and seem to just know her life was perfect. Her face was a perfect display of freckles and big blue eyes. She had more friends and fewer enemies than anyone I knew. If you didn't know her there's no doubt you wish you did. She was an amazing cheerleader and an even better gymnast. Her smile could catch anyone's eye and her laugh could make anyone smile.
The description of this girl isn't fictional; she isn't made up. As perfect as she seems, she was actually a real person. If being perfect was possible, looking in from the outside Kristen Larsen would be the perfect candidate. She was one of my best friends in seventh and eighth grade. She wasn't like everyone else in school though. Actually she wasn't like anyone else in school. Kristen was only fourteen, yet her life was already dissolving. One small detail of her life managed to set her apart from everyone else I knew. Kristen had cystic fibrosis and it had been eating away her life since she was born.
On May 11, 2007 at 4:00 PM, the plug was pulled on a dear friend, Kristen Larsen. Learning the news late the night before, I was in complete shock. Yes, she had suffered from cystic fibrosis her whole life, and yes, she had been in the hospital for nearly six months, but what we knew told us she would be receiving a double-lung transplant soon. Besides all of that, she was just a normal teenage girl. We thought we were certain she would be entering high school with us that August.
This little eerie realization that she wasn't going to be at Fremd with us greatly affected me. Not only was she not even going to start high school, but she wasn't going to be able to get her license or even go to college. These are the kind of things you expect everyone to do. People automatically expect everyone to live well into their adult years and have children and careers. Children especially have this kind of mindset. They start planning on what they want to be when they grow up and who they're going to marry. The fact that someone so close to me was being stopped short right before the real beginning of her life resonated with me. I no longer look at things how I used to. I don't take many things for granted but most of all I don't take people for granted. Kristen showed me that family always comes first, but friends are a close second. I learned to keep these people as close as I possibly could because there's no way of knowing when they could vanish.
It's amazing how much a fourteen year old can change your life. Although I was only fourteen at the time as well, the way I looked at the world had drastically changed. It was like putting on glasses for the first time and seeing everything pop out right in front of you, clearer than ever. From then on I knew what direction my life would take me. I had always been interested in the medical field but I realize now that it wasn't until then that I made my decision to pursue a career based upon helping people and families just like Kristen's. Even further than that, I wanted to really make a difference in people's lives, and by that I mean save lives.
I've experienced death before. I've lost people close to me, but I've never really been changed from it. I sincerely believe that if I hadn't met Kristen Larsen, I would not be the same person I am today. She has shaped my life in almost every way possible. I'm a more grateful person than I ever would have been. And although her story doesn't have a happy ending, Kristen has given me optimism. I've learned from her that we need to live for today because yesterday's gone and tomorrow may never come.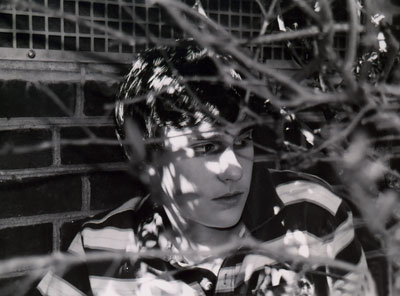 © Kyle W., Pompton Plains, NJ