R.I.P Sidney
January 11, 2011
Sydney Lee, you have been my friend since grade school. During recess we would go outside and shoot hoops in the sunshine. You always loved basketball. We would run across the playground and race each other at hopscotch. One day you went at school and someone said you were getting surgery. I asked my mom why you had to get surgery. She said that you had a disease that caused you to have tumors on your brain that would rupture. I asked if you would be okay and they said you would be.

We went into middle school together. Became teenager together, shared stories, laughs, heartaches, and classes. In seventh grade me, you, Rachel, and Savanah all sat in a square in the front of the room. We would talk and talk, but we never got yelled at. In the beginning of eighth grade Spencer and I went to your house during the festival. We sat on your couch and watched silly teen shows. We talked about how great it was to finally be in eighth grade and that we couldn't wait to be in high school. We told jokes and stories until were laughing pretty hard. Your laugh was infectious. The Syd laugh. No matter how bad of a day someone was having, the Syd laugh would cheer them up. When we were done talking, Spencer and I left.

Eighth grade was hard for you. One of your surgeries had partially blinded you. You weren't at school very often and when you were there was a lady following you around helping you. You still smiled though. Told them not to worry, laughed. You were okay.

Then came summer break. Emilie and I went to the fair. We played games, rode rides, and ate greasy fair food that we loved. We have so much fun that day. I went home that night and fell asleep peacefully oblivious. I woke up the next morning and grabbed my cell phone. I had 5 new text messages. They were all about you. They said that you had surgery and it didn't go so well. You had two strokes and passed away. August 10. All those years of friendship, gone in a day. I called friends asking if it was true. Yes, you were gone.

We all went to your funeral. Everyone came. Everyone cried. We seen pictures of you and talked to the family. The hardest part came last. Your casket. It was closed, I heard that your surgery did something to you. I guess they just wanted us to remember you the way you were. The casket was white and your grandma was holding a jumbo package of sharpies. She said to write something to you on the casket. I simply wrote "I love you Sydney and I will miss you –Shania". I didn't stay too long, it hurt too much. Your smiling face was everywhere and I couldn't stand to think that I would never see it again. It was just too real.

The school and the family keep your memory going. There is a scholarship in your name that will go to one of your classmates. All of your friends have *Believe* bracelets and t shirts. The band plays a song in your memory at all of the games. We celebrated you birthday and talked about our memories of you. There's a stone with your name engraved in the little yard between the school buildings.

I won't get to hear your laugh or see your smile in person again. We won't share stories, jokes, or laughs. I realize that you're in a better place now. You wouldn't want us to be sad, so I try not to be. It's hard though. I love you Syd and I miss you.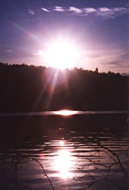 © Laurie T., Hopkinton, MA