The Fool and His Gold
January 11, 2011
I was pretty young when this happened, about seven I think, but I can still remember it because it was a big problem. I was in Michigan visiting my aunt, uncle, and cousin Matthew. We were out seeing the sights and terrorizing the town when my mom and aunt saw a gem shop, so we went in. This was a disaster lying in wait.

The moment we walked in, my eyes immediately lay upon a big treasure chest filled to the brim with fools' gold. I didn't know what fools meant and I didn't want to ask anyone for fear my master-minded plan might go right out the window. All I cared about was the word gold and I had to have some. Can you see where this is going?

I was all set and then stars aligned, the clerk was not looking and neither was anyone else, and my mom was at the other side of the store, right where I wanted her…Muahahahaha. I took a piece of gold and said "Mom, Mom look at this," as I walked over to her. I showed her the gold and got all excited, so I asked if she would buy me some. Her motherly reaction to the words, "Would you buy…"was, "No." I knew this would happen so I acted interested in some stone on the wall while I discreetly slipped the fake gold in my pocket. It worked! We walked out of the store. I was so excited I rubbed it in my pocket the rest of the day until I forgot about the stone.

That night my mom went to do laundry. Uh oh. The moment my mom called my name a jolt of fear went through me like I was being struck by lightning. I quickly checked my pajama pockets… nothing, sweatshirt… nothing. I felt like I was on a roller coaster going off the tracks. When I finally faced my mother, the whole darn roller coaster came crashing down on top of me while I was being struck by lightning, again and drowning all at the same time! I had no comeback, no comical retort, just a red face and teary eyes. I felt terrible. I had to go back to the store to return the stone and tell the clerk what I had done. The worst part was I still thought I was returning real gold. When we left the store for the second time, my mom explained that it was just a shiny stone that looked like gold but had no value whatsoever. Who's the fool now? Guess who lost innocence when he gained some intelligence. Me.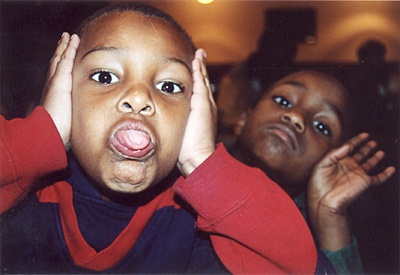 © Amy B., Alabaster, AL