Knowin' Me
December 23, 2010
People always say I have to find out who I am.
I never understood it. Period.
When I asked my sister once, she replied, "Haven't you ever felt like your someone else, like your leading someone else's life?" 
No! Why would I feel like I'm anyone else but me! It was laughable to me. 
I was eight.

At that age maybe it wasn't possible to be so influenced as we are growing up. Knowing who I am now ya strange knowing I was never fully myself. I've grown into a self loving, smart, and accomplished young person. 
     We all struggle through puberty and peer pressure. It want until high school that I..wouldn't call find myself, but learned how to be in every way my true self without the fear o what people think!

In middle school I was quirky and plain out weird. I was in some ways overbearing, hoping my outgoing and straightforward personality would be in a way liked by others. Instead I was given "the look." you know the look don't pretend you don't! Either you've gotten or given it. 
   Freshman year in high school, I was a part of the marching band, which showed me by example to strut the hallways with good posture and a cocky head. Despite my very small stature I seemed quite confident, but I didn't understand it. 
 I saw upperclassman with their curvy figures walk around with their heels  and seductive smiles behind stands of hair. It was like a pack of and slender girls sexier, prettier, and taller than me. I truly felt like a kid. And I was... Instead of sexy I felt like a cute teddy bear boys hugged but didn't want to ask out. Although I was still a tomboy ad easy to talk to around boys. It seemed I was just that. He girl to talk to when my crush needed someone to talk to about their crush. 
It wasn't until my sophomore year that I found a balance within me and really felt sexy, cute, and confident all at once, everyday. I decided to dress whatever I felt like and say what I felt and act the way I felt I needed to. This way, I still strutted the hallways with an air of confidence, yet I knew that with every step I wasn't thinking of how I looked to others, but that I was just going to where I was walking. Thugs get really simple once you throw away needless concerns. So when I see those girls, I consider them just as I would myself. A damn sexy chick showing her attributes in her own way. 
As for boy trouble, it turned out my best friend had a crush on me since we met, and we've been together since March of my Freshman year. It's a good feeling.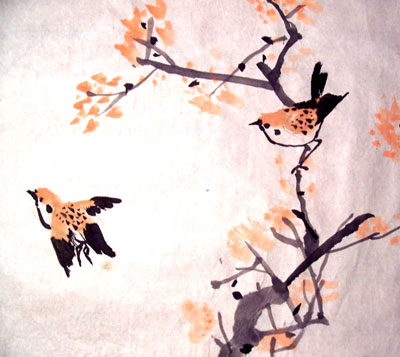 © Xiao H., Naperville, IL