The Classic American Elephant
December 22, 2010
Ladies and gentlemen, this morning I come to the defense of two individuals whose own ideological views have caused them each to fall victim to frequent persecution and personal humiliation. The defense feels justified in stating a basic, intrinsic fact: the majority of my friends are not fans of my parents. To substantiate this point, perhaps this statement warrants use of stronger language: a fair few of my closet companions have actually used the word idiot to describe their views towards my parents.

Perhaps the defense should explain exactly why her parents have been the subjects of much scrutiny of late. My parents are what I like to call Super-Republicans. In fact, I might venture as far as to classify their species as Super-Duper Ultra Republicans (Latin name: Eximius Major domus Ingens Res publica Proboscidea.) To prove my point upon their ultra-conservativism I believe it extremely necessary to present to the jury an itemized list of their beliefs, habits, and overall Republican tendencies. In due course, I believe that the jury will come to realize why the two individuals described have, as of late, come under fire from those known as my friends.

1. My parents collectively have not voted for a Democratic Party member in an election of any sort since 1988.

2. Neither my mother nor my father believes in the phenomenon of global warming. Both parties dismiss the studies conducted by reputable scientists and the words of venerated politicians as mere fiction. Closely related to the global warming subject is my parents' apparent neglect of any practices that would be regarded as "eco-friendly". My parents have been sued twice by our regional chapter of the Environmental Protection Agency on account of their unrestricted destruction of the natural landscape (in other words, they are the exact opposite of tree huggers. They enjoy cutting down trees.) A court settlement was reached in both instances.

3. My mother likens Ronald Reagan to a bright, shining demigod on account of his amazing public speaking abilities as well as former career as a movie star. For Christmas, I was given a stuffed elephant whom my mother had christened "Ronnie".

4. My parents are major supporters of (and friends with I might add) Former Florida Secretary of State Katherine Harris. This is a woman whom many credit as the sole reason George W. Bush won his first campaign at the presidency. Remember the whole controversy about the "Florida Recount" during the 2000 presidential election? The members of this jury were perhaps only wee 4th or 5th graders when this incident occurred, and therefore likely far too preoccupied with Pokémon and Saturday morning cartoons to even take notice of the so-called "stolen election". But yeah. It was that lady. And my parents love her.

When reviewing this carefully edited list, one must take into account that the primary topic discussed is political ideology. The defense begs the jury to ask why, in a country that is as supposedly free and true as the United States purports itself to be, have the strong (albeit sometimes ridiculous) political views of two relatively insignificant creatures caused such an adverse reaction on the part of their child's contemporaries? The defense is bewildered at such a society that would allow anyone to be persecuted on account of political beliefs.

I will impart to you a specific incident that is particularly disheartening. On this very campus, just last Wednesday evening, I was sitting on Foss Hill with a large group of people. I ventured to say that although I did not always agree with political commentator Glenn Beck, I did respect him on account of the fact that he does not let what others say about him sway his beliefs. The boy sitting across from me called me stupid, got up, and left.

I would like to take this opportunity to dispel a number of assumptions that many in the past have made about me. No I am not an elitist, anti-gay marriage, pro-life, a Reaganite, or a member of the Tea Party Movement. My conservative father is not racist, or sexist, male chauvinist, or a misogynist. My Catholic mother goes to church every Sunday, but she is not a "Bible-thumper" nor Anti-Semitic.

There is no doubt that I have been molded in part by my parents and, as a result, have ingested some of their conservative beliefs. Yet I am extremely socially liberal. (And yes, if you're wondering, I do believe in global warming and most definitely do not support the destruction of the environment.) Perhaps I am political contradiction of sorts. Still, I will refuse to classify myself as anything but an Independent. As of late, I am a blank state. An unfinished book. A wordless page. I cannot say where I will stand politically in the years to come. What I can say is that I am not my parents and any decision I make, political or not, I will make on my own.

Members of the jury, I will not lie and that I was not afraid to deliver this address today. I know that this very statement will change many your views of my entirely. I can live with this. That is my own. But just as you have your political views, I will, until further notice, unapologetically have mine.

The defense rests.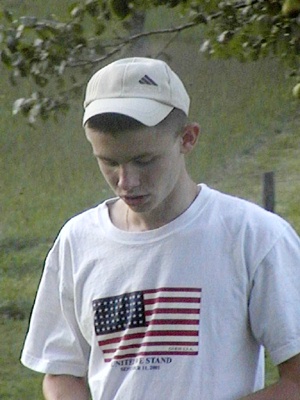 © Artem S., Candler, NC