So Simple
December 16, 2010
Life begins and ends simply. As humans, we come into the world unaware of what we have been enlisted in. We live our first years dependent on others, in a state of childhood bliss. At the end of our lives, we are freed from the complications of this world, our mission complete. We come within minutes, and leave within minutes. Simple as that. Why, then, are the years in between so complex?

As a four year old girl, nothing was better than spending the afternoon with my younger brother playing in our toy room upstairs. After a few rounds of climbing up the stairs and sliding back down the railings, we'd make our way into a large, blue carpeted room, where our toys lined one of the walls. It seemed like the biggest room in the house then, and it was our safe haven. We loved playing with everything, but our favorite activity involved not the toys, but the toy box.

The toy box was amazing to us because it could be anything we wanted. Most of the time, it was a car. We'd drag it out into the center of the room, take off the lid, and dump the box over, scattering the toys and creating a wonderful crashing noise. As soon as we'd cleared the path, my brother and I climbed into our imaginary car, arguing about who got to be the driver this time. He usually won. As soon as our dispute was settled, we turned the key, and we were off. We spent up to the next hour "driving to the cabin", stopping at "rest stops" along the way. I don't remember how the game would end. Most likely, my mother would call us down or we would get bored and run off to do something else. But I can always remember how much we loved playing upstairs, driving to the cabin in a toy box.

Looking back, I wish life was still as simple as it was then. I wish life was still at the point when I could be amused for hours by a simple toy box. I would love to escape to an entirely different place by just climbing into that toy box and letting my imagination take over. I wonder exactly at what point my arguments became more complicated than a dispute over who got to "drive" the toy box. I'd like to know at what point my sibling transformed from my playmate to my irritating brother. It's hard to pinpoint the exact moment, but somewhere in along the way, life becomes confusing and complicated.

Unfortunately, although I wish it wasn't true, we all grow up. I'm not the little girl who spent her hours travelling through Michigan in a toy box anymore. My life has developed. I have dreams and plans to work at. I have disputes to settle and problems to solve. Life is complex, but I know somewhere, deep down inside, that little girl remains. And when life gets really hard, I have the toy box memory to turn back to, and I remember that life wasn't, isn't, and doesn't have to be so complicated.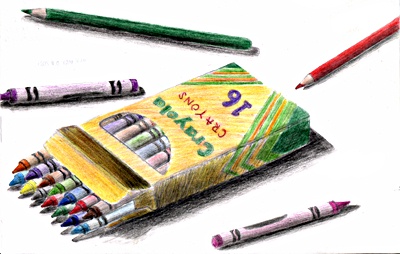 © Dana H., Wichita Falls, TX