Learning Love
October 24, 2010
We met in the theater at my school. We were supposed to be watching a stupid video or listening to someone talk to us about our futures or taking notes on some teacher's presentation that was exactly the same when our parents graduated. The point is, I wasn't listening. In fact, the ceiling was more interesting. So I turned to the boy next to me and asked him, "Do you ever think about how hard it would be to walk if you turned all the buildings upside-down and were expected to walk on the ceilings?" And he didn't think I was crazy.

He was my best friend's boyfriend.

So that's like… Really off-limits, right? Even if you're not the perfect girl with all her perfect friends and their perfect rules so that everything runs perfectly, it's still… understood, right? Yeah, but I was never the perfect girl. Actually, I spent my whole life running from her.

Incidentally, my best friend liked to pretend we were perfect. But we were both so far from it.

She's pretty enough, in that too-much-makeup sort of way, and she liked to dress like she had big curves and her hair was perfect. She liked attention. I don't think she got a lot of love at home. She was mean and dramatic, but she was my best friend, y'know? She could be a lot of fun.

I had the curves that she wanted, but I hid them behind a boy's jacket and loose jeans. I wasn't insecure; it was just easy to pretend I wasn't pretty so I didn't have to deal with boys. I was One Of The Boys, not girlfriend material, and that was exactly what I wanted.

She had a boyfriend, I didn't. She wasn't in love and that suited her just fine. Who likes commitment in this day and age? Well, me, for one. I mean, I'm scared of it, but still. I want to believe he loves me so I don't have to worry about The Other Girl.

Her boyfriend and I helped mop up her dramatic messes. He was the guy that she got to hang off of to show everyone, "Hey, look what I've got, try and mess with me now!" I was the one she trusted; the one who let her walk all over me, who would dry her tears and give her good advice. She loved me as much as I loved her, but it was just in her nature to show it badly. That type of girl, y'know?

Well, she ended up cheating on her boyfriend. And I had to be the one that told him. I loved her, but I was SO sick of seeing her run around and act like a slut with any guy who gave her the time of day. Her boyfriend deserved better than that.

So when they were 'over', I was the one that was there to pick up the pieces. I didn't mean to end up with him… I was just trying to mop up her mess like I always had.

But we clicked. He talked to me like I was a real person. He kissed me like he was in it for the long run. He held me like he though I was beautiful. I wanted him.

She was furious. That was kind of… the last straw for our friendship. I was so angry that she had done that to a boy that liked her so much and treated her so well. She was furious I took his side.

She ended up with The Other Guy. And I ended up with her abandoned boyfriend.

It took a long time for us to be whole. I was all busted up from some stuff that happened in middle school, and I thought he was never going to trust anyone again. Sometimes we're still broken. I still cry over my past, he still worries about what I do when he's not around.

But he loves me now, and it allows him to trust me. He's the guy who'll build blanket forts with me and stroke my hair while I fall asleep next to him. But he's also the guy who'll go too fast on his dirt bike to make me shriek and squeeze him even harder, even though we're not going too fast at all, and I'm just a chicken. He's the guy who likes it when I dress up nice and put on makeup, but likes me even better wearing his jacket with my hair a rumpled mess and my pre-coffee face on. He's the guy who SHOWS me how much he loves me, instead of trying to tell me. We're like puzzle pieces, manufactured to fit just right.

And even when I hurt him so bad I thought it was irreparable, he came to me. He told me he loved me, told me he needed me, asked me to help him make things go back to normal. I swear, it hurt me more to hurt him than he hurt in the first place.

Does that make sense?

I hope so.

It's hard to explain this stuff, but sometimes we need to be able to tell other people. Show each other it's possible; show each other that even when you feel like you're not the Pretty Popular Perfect girl and you're never going to find love, and you lay there in bed and cry because you're so sick of seeing those girls in school all over their boyfriends…

Well, just remember that that isn't love. And someday you're going to stumble on love in the weirdest place ever, but you gotta be willing do something so boneheaded stupid that no one can quite believe it, because you know its RIGHT.

I'm a just a kid in high school. I'm not fantastically beautiful or popular, I'm just a girl. He's about as far from perfect as I am. But we make it work, because it's us, together, against the world. And there's no other way to exist right now.

This isn't a fairy-tale love story. It's not a girl in denial about finding 'The One'. I know we're not going to get married. I know that high school relationships don't usually last.

I'm not stupid.

But that doesn't mean what we have isn't special.

He taught me how to love. I think I taught him the same thing. Maybe I'm helping to show him that not all women are the run-around w****s of his past. I want to show him that, because I know he's shown me that all men aren't bad. I never want to hurt him.

I guess that's what we have to try to do; be the best we can be for the ones we love.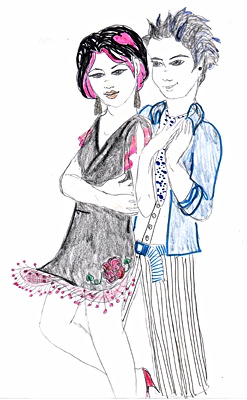 © Liza M., Vineland, NJ