Meet the people
October 6, 2010
Gods above, this is terrifying. My chaperone is walking away with the parting message to "Meet the people." Meet the people. That's all. My glance frantically jumps from one location to the next as I scan the derelict park for danger. I had been abandoned smack dab in the middle of the part of town that was voted #1 Most Dangerous Neighborhood in America. I struggled against stereotypes and preconceived fears as I took several deep breaths and rolled my shoulders to calm myself. Meet the people.

I walk past the first bench-full of suspicious people with an overly cheery "Good afternoon!" They look at me with eyebrows raised in disbelief before they mutter a dismissive response. Not exactly successful.

I move on, fighting the urge to giggle with absurd terror at the fact that I am so completely out of my comfort zone. Another bench, another group of strangers.

"Hi there!" I manage to squeak around the fluttery unsteadiness in my chest.

A short, bearded man quickly gets up to shake my hand. "Hello, miss! What brings you to the park on this fine day?"

My discomfort evaporates, and I smile instinctively in response to the bubbly nature of the man before me: he is dressed in scruffily layered pants and shirts, despite the stifling heat of the summer day. "I'm here to meet the people. What's your name?"

And so began my conversation with Booger Love. Yes, that's his name: Booger Love. He is a civil rights activist who specifically defends the liberties of homeless people. Some people may be uneasy to hear about a seventeen year old girl making amiable conversation with a fifty-something homeless man in a shadowy park, but that is exactly what was happening. Some interesting facts about Booger Love: he has a tattoo that tells time, a hat embroidered with his name, clothes that smell of smoke, and a heart full of love. Uncle Booger (which is what he asked me to call him, as opposed to "Mr. Love") is one of the kindest human beings I have ever met: sure, he's partly mad, but that makes no difference to me. We sat and talked for hours, becoming fast friends.

It has been three months since I last saw Uncle Booger. At least once a day he crosses my mind, and I wonder when he ate his last meal or where he plans on staying that night. While meeting Booger opened my eyes to the grungy underside my own city, it also taught me a lesson in the dignity and respect that every individual deserves (regardless of economic status, race, or clothing choice).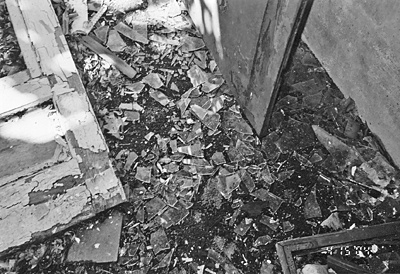 © Gary C., Pequannock, NJ