Empty
October 4, 2010
Down devastatingly deep into the ocean lies a squalid, little fish community, and in this community lives many amazing creatures. The seahorses had that whinniest whinnies and the puffers had the prickliest pricklies. This is not the focus of the story, let me introduce you to Oliver, he is an oyster about the size of a human fist. His shell is of the most beautiful colors, a rainbow in fact. Barnacle free was his shell, the deep water sun gleamed on his shell, shimmering in the bitter salt water. Up until this point Oliver was very content with himself. He believed that since there was nothing to worry about he was happy. Up until this point Oliver was oblivious to what happiness really was, he had lived his whole life an empty shell.

As gorgeous as he was he was still just a blip to the world, a hollow shell, mind- numbingly corrupted by the ones who "loved" him. This mask Oliver put on could have fooled the sharpest of blades. Oliver slowly realized he was spiraling down deep into the deepest trench imaginable. Down at the bottom of this "Treacherous Trench" Oliver saw the world in a different perspective. This so called world was cold and dark, sink or swim they say and Oliver sunk. "There is no point in getting back up." Oliver thought. "The farther I rise, the harder I will fall." Oliver became comfortable with living in this place, he never saw the day it would all change, but he sought it with the deepest part of his heart.

Oliver spent the next five years doing the same things everyday, nothing changed. He thought he was losing his mind, but of course he wasn't motivated enough for that. The only thing that did change in fact was Olivers surroundings'. He felt as if the world revolved as he stood still, blurry lights slipped past him and the hardest part of living became breathing itself. He managed to survive, not knowing why he contemplated suicide. But just as Oliver felt as low as he could possibly get, a bone was metaphorically thrown his way. More like he met the most gorgeous creature he couldn't have imagined.

Her shell, a silken cocoon, woven with only the finest materials. Oliver found that her name was Janie, what a beautiful name. He had no clue what to do, she was all he ever wanted and now that she was there he felt so fulfilled. He later discovered that not only was Janie the prettiest, but she was nice, and very exciting. Oliver said, "I'd give you everything if I had something left." And Janie said, "Baby, I don't want everything, but you…" She was the pearl that filled Oliver the oysters void. Olivers life changed from that point on, he had a reason to live. She gave him something to look forward to. He loved her and she loved him.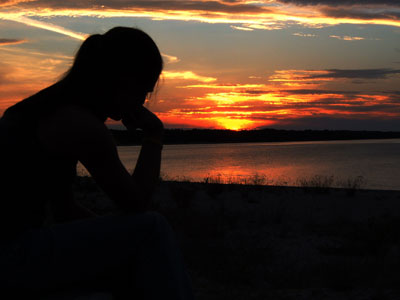 © Hilary L., Rogers City, MI