Runawayer
September 26, 2010
I stood by the rushing river; thinking about things happening, and things being done. The cascading water was settling in some ways. Like it had all the business instead of you. It was the one being dragged, and had to work to get to its place. I just had to watch, and wonder. I sat down in the leafy coverage with a deep sigh. I felt as If and the stream and I were two busy New Yorkers, who couldn't both fit on one bus.

I threw in a rock; watching it ripple, the ripples seemed to sooth the disturbed water. The rock skipped twice, landing swiftly. I giggled. Why was the stream upset anyway? This place was great! I listened to the crickets tussle, and watched, what at first I had thought a rock was; reveal a grinning turtle. A dragonfly rested on the water, to enjoy the brisk ride. I got to my knees, and gingerly touched it. It flew upwards, away from the restrained river. It was ready to leave the safe fishless stream. Maybe I was too. I found myself laughing. After running away from home after some cruel words of friends, I now found it foolish, a little.

My laughs now turned brighter. The turtle nearby turned its head in the direction I had come from. I knew what it was telling me. I got to my feet, only to be greeted by a familiar face.

"I'm so sorry…." My friend half whispered, "I didn't mean it like that…"
"It's o.k." I almost found myself giggling, "I forgive you."

We hugged, and her eyes ran to my runaway companion, "That turtles checking you out."
"I know! It's freaky!" The turtle's smile seemed to grow, "Come on, let's do something."




And we were off!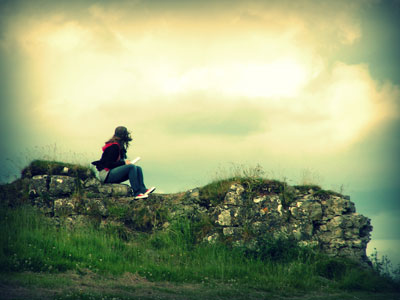 © Caroline C., Coronado, CA