Burying that Guitar
September 23, 2010
I swear to God I didn't mean to touch it. I didn't even mean to strum the beautiful strings on that old, chestnut brown, amazing guitar. I didn't, honestly! I didn't even mean to pick it up and strum that song, I didn't even mean to sing it!
I guess it was just sort of a automatic response to you. Key word, automatic. As in, done without thought. Not on purpose.
You didn't even pay attention anyways. I could tell you were crying though, but did you turn around? Face me? Find my eyes? No, you sat there next to your friend Stacy and talked. Your soul wanted to sing along, not alone.
I thought I forgot that song. I haven't touched my guitar since I sung to you at the Valentine's dance last year. I can still remember that day like it was yesterday, really I can.
I can remember your long beautiful hair in clips, your beautiful smile, your beautiful body against mine as we danced the night away…
I have to really stop thinking about things like that. I have to get over the fact that your not my girlfriend anymore. You're his, and I have a new girlfriend, and she's nothing like you.
This girl is more like the girl in that song. She thinks I'm someone, and she loves to hear about me, not herself. She cares about others more than herself, she cares about me.
She calls the life that you called stupid, pointless, and horrible, something completely different. She thinks I'm interesting, and she likes me for who I am, not because I look "cute".
I'm going to have to bury those feelings.
All those days of us hugging and kissing in the darkness. Your cute smile and how we were planning on doing so many things together, but now it's too late. I hope your sorry.
As I lay the guitar back down in the case, and the music class cheers loudly, I look at you. Tears threaten to fall down my face, how stupid is that? Your not looking at me, your not speaking, you aren't even on the same planet.
You stare into space and then the bell rings.
I grab my stuff and leave as do my feelings for you.
I guess I'm going to bury my guitar with my feelings.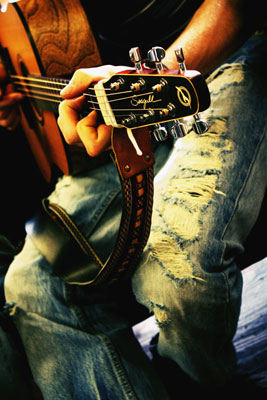 © Sam W., Bellevue, WA