The scars have been healed
September 8, 2010
It was when i was only 8 that i began realizing how different i was. 3rd grade was the first year that all the girls started playing "kissing tag" with the other 3rd grade boys. It was a game that consisted of all the pretty, thin, athletic girls, chasing all the cute, athletic boys. A game that was more fun to play than to watch. I only tried it a few times, but soon realized that the boys would run in disgust, giving me grossed-out looks as i caught up to them. I observed that as the pretty, thin, athletic girls would get giggly, smiling faces from the boys. I felt so different. Another reason i never played kissing tag again was because i could only run for just a few minutes and then i would break down in a heap and gasp for air. I was extremely out of shape, and it was affecting my size.

In 5th grade, we had to learn to dance. We learned almost every type of partner dancing from square dancing to slow dancing. Every day at the beginning of our dance lessons, all the boys would choose the girl they wanted to dance with, those were the rules. I was always the last one sitting on the bench, my belly protruding over my to-tight jeans. The last guy would trudge over to me with his mouth turned upside down, saying "Do i have to dance with her? I'd rather sit out!" the words cut deep into my heart, leaving scars that would never heal.

A few years later in 7th grade, we had to undress at p.e. Of course, we dressed in front of our own gender, but they were just as harsh if not harsher than the opposite sex... My best friend was a pretty, thin, athletic girl. Her name was Hattie, and all the boys like her. Our p.e. lockers were right next to each other, and we dressed just inches from each other. The other girls would look us down and compare our ever different bodies. Hattie, a perfect size 2, and me... a cellulite rich size 9. the difference was more than noticeable. While participating in the activities of Physical Ed that day, my big fat knees would show under the short shorts we were given. Again, all the boys and girls would snicker at my apparent lack of being in shape.

The last straw was last year, 10th grade. Me and Hattie had since broken up over my size, and she had moved away. I was in with a new crowd now, a girl who was size 16 and a boy who was nearly the same. These were people who understood me, accepted me... People who would never sneer and snicker at my excess rolls. But a new girl in town, Rosie, had an apparent fat problem. She hated all people and things fat, and i never knew why. But most of all, she hated me. Daily she would throw names out such as marshmallow, earthquake, fatty, and butterball. The words cut deep into my heart, leaving more permanent scars. These shallow people who never knew my real self, that tucked away behind the curves and plumpy body, was a real, sincere girl, who only wanted to make friends.

At last, boy who doesn't care about my size finally came along. He was tall, and thin, athletic, and very good looking... And very accepting. We began talking in Japanese class, and soon we were dating.

It was quite a while before i was comfortable to tell him about my scars, and when i did i had the shock of my life. I said somthing along the lines of, "hopefully one of these pairs of pants will actually fit my fat butt," and he gave me the same disgusted look that all the 3rd grade boys gave, that all the girls in the pe room gave, that hattie gave when i asked to try on a dress of hers, and the same look the judgemental Rosie gave. His reply was simply this, "Bridgett, why you would ever think your fat is beyond me, YOUR SEXY!"

And we plan to get married next spring...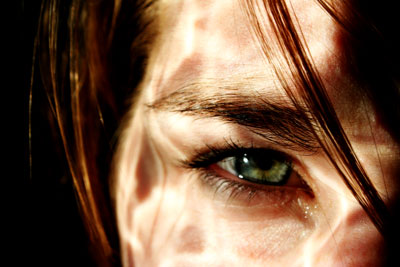 © Monica L., St. George, UT