I Suck at Being Clever - A Reverse GCSE Slump
August 24, 2010
Being predicted 11 A*s for my set of GCSE's was always going to make for a difficult year, but I knew in my heart and soul that if I wanted to achieve those results, I could, with enough hard work and determination. All the revision, all the cue cards, all the extra hours spent after school studying books and past papers; the pressure of being an A* student was incredible, but I was determined, as I am with everything I do in life, to live up to all those expectations.

As well as keeping up with my limited social life and maintaining relaxation time, I did the coursework, I improved on the coursework for the second and third times, I bought all the work books and stuck all my notes around my room. To be honest, I was confident about doing my exams, and to be even more honest, I deserved to be, after all the hard work I had put in for it.

The exams themselves I found to be somewhat enjoyable. My favourite was Textiles, as the questions were fun and involved doodling and colouring in, making it a relaxed, easy to comprehend hour and a half. Biology and Chemistry – being only 45 minutes each – were quick enough that I flew through them, and most of the others. I struggled with Physics, though, finding it very wordy and confusing, but still managed to answer all the questions confidently and was feeling happy about the result.

With the day of the results came looming, not only was I scared about my actual results, I had a more social issue to be stressing over.

Being an "A* Student" means everyone expects just that. All my friends were expecting me to get A*s. All my teachers were expecting me to get A*s. I was expecting to get all A*s. But, if I did, anyone who hadn't done as well felt more disappointed in their own results, after asking what I got. I couldn't show off about getting a full spread without the fear of upsetting everyone else. Even if I did tell other people, the only response I would have gotten was "Well, we were expecting it, of course, well done you." There was no real achievement in fulfilling what was expected of me.

On the other hand, if I didn't get all A*s, everyone would merely respond with, "Well that's terrible, how could you not, we're disappointed, you could do better!", whether they were being serious or not. Plus, anyone who had gained an A* in a subject I hadn't would immediate just go, "WOW! I DID BETTER THAN YOU!", which certainly wouldn't help my already disappointed self. On top of all that, me complaining about an A wouldn't get any sympathy from anyone, as for most people, it was better than what they had got anyway.

As August 24th rolled up, the nerves did too, and of course I was trying to remain confident without being cocky. All my friends were going in nice and early to get their results, but I wanted to avoid the rush of people being nosey and screaming all across the school hall. When I eventually arrived, luckily most people had gone, meaning there was no one around to see my disappointment when I received only 6 A*s, 3 As, and a Distinction in BTEC Performing Arts.

I was crushed. I was expecting the A in English, due to my lack of concentration during the exam, but getting an A in Media Studies really struck me – you see the test paper 2 weeks before you sit the exam, and get to practise your answers. How could anyone NOT get an A*!?

My A in Media was followed by the English Literature and Religion Studies, which upset me even more, as my friend said everyone was getting A*s in RE, due to the easiness of preparing for the exam. The distinction really hit me hard, as the bunch of extra work I'd done towards my BTEC had been worthless, seeing as it hadn't increased my grade from earlier in the school year. I was gutted.

I was dragged outside to have a group picture for the local paper, bumping into friends who kept asking me how I'd done. Trying not to answer them all, I smiled and jumped and added to the general enjoyment of the photos. I didn't want to seem like I was sulking over a couple of As, but I knew I could have done better, and was expected to, so I felt like a total let-down when I didn't get the full spread.

Luckily for me, I knew one of the kind reporters who were there from the paper, who gave me a pep-talk and made me realise things weren't so bad. Although she didn't understand my angst about missing out on those extra 3 A*s, he told me to stop being so silly and see that I had all passes, and all darn good passes! Plus, with the added advice of "After A Levels, no one asks about your GCSEs!", I was feeling slightly more cheered about my good list of results.

After my Nan treated me to chocolate cake for lunch, plus the added encouragement of parents, friends, and of course, my lovely boyfriend, I felt happier. Plus, seeing other peoples' results made me see how well I really had done.

Although I'm still disappointed I missed out on those 3 extra top grades, I'm happy enough with my results. All my friends have congratulated me and made me realise what an achievement 6 A*s really is! Although I'm trying to get my Distinction remarked so I can get it up to the D* I put in all the work for, I'm accepting my A*s and my achievements in my subjects. No-one except fellow A* students will understand my despair in missing out on the last few A*s, but that's just a fault on my own behalf. I'm looking forward to taking my A Levels – and hopefully getting my top spread there instead – and am ready to enjoy the next step to move on from Key Stage 4.

Only slight change – don't fancy doing Media Studies for A Level any more. Shame.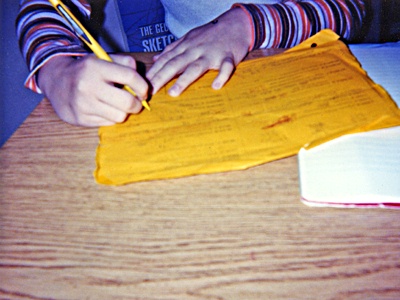 © April R., Highland Village, TX