That Life of Ours
August 14, 2010
Five Points to get you thinking


My first tip for you is to listen to French music; it is purely the most jaw dropping, meaningful – slightly heavy music that you will experience. The mix of not understand half of what is said and the delightful melody that is and always accompanied by it is the reason to life. It's like passing off being a seasoned wine taster in a vineyard – tucked away in the rolling hills of southern France while the sun guides your time – the only clock you go by. The trick is to pretend you understand what you are saying and you will adore the music, it will become a part of you, and in the end you'll understand so much French it will make no difference. Not that I am saying I know French – far from it, but you will have no trouble with the pronunciation of the grammar totalitarian ruled language. And with that you can just make up some random words and have no problem by putting "le" and "Mon dieu" in front of anything. The French like to see foreigners make a fool of themselves, but anyone else won't have a clue what you are saying – because they don't know French! Except Germans, they seem to have ties into every and any language they can get their tongue around.

Second, live a little – take a lesson from the Americans and focus on you for a while. You have to be sure and able if you're going to live your life. Yes this might sound vain, but it is vain – life is vain so just get used to it. Eat something you have been putting off, spend on something that you shouldn't have had. Your ethos is to be "Me, myself and I" and do what is for you and only you. Unless, I don't know – you are running a country or are controlling a nuclear power station, it sort of comes with the job that you will have no time for yourself. I would also feel a little bit uneasy for why you are reading this book as well, considering; your time should be on other things. What is life about if it is not about you? Sure it is nice to help people but really, ask yourself: Am I important enough to write a song or start a worldwide religion? Nope, so I won't do anything – I would rather spend the energy on oneself before the whole.

Third – take into the fact that there are now billions of humans, of which millions do not have enough resources to survive a stable life. That we are terraforming our world into something that is really not that good for human life and is not helping the situation. And while this is happening; an evolution, a revolution and a process of enlightenment is happening all around the world simultaneously to this destruction - you should be very grateful for what you are able to do. That you are on the right side of this unbalanced world. Freedom has been fought for, and is one of the reasons you are able to read a book like this, but the time of violence is over - understand? You must personally move away from the stuck up tribal slightly territorial barbaric and a tad bit animalistic approach to people. And to say to yourself "What if I was in their situation?" Being nice is the answer – and helping when you can. Now that the borders of countries are getting fuzzy and language is getting ever more integrated you must understand to be happy you must make others happy so they will a) leave you alone or b) help you. Either one is better than none.

Four - the weatherperson is only repeating readings from satellite readings and what can be predicted from that data. For all the times they have been wrong – think of all the times they have been right. This includes a variety of professions in which they get things wrong but think about the rights. Unless they seriously are bad, then drag them down until they are crushed (I really do believe in peace but sometimes people don't understand a simple no).

Five – When dealing with a British person while angry, back away as soon as you can. We go into a hissy fit when we are ticked off (Unlike a certain civilization that pulls guns out and starts firing out randomly, hoping to hit the offending person cough USA cough) and we keep grudges as well as the Italians – so except a life time ban. But – the one weakness is chocolate. If buying this chocolate do not go for the expensive brands, but for the sugary cheapish E number filled one. The stuff that the EU keeps on trying to ban from being called "chocolate" – it's like seeing a cat orgy on catnip – truly amazing.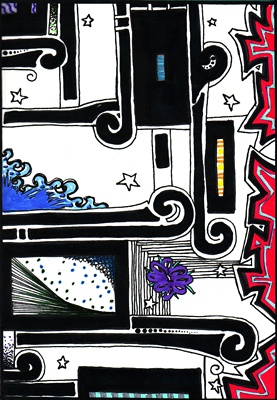 © Jessica D., Burke, VA