What's Your Sky Like?
July 29, 2010
Sparks. The image still on the television screen is so perfectly etched—a spark here, a spark there.

Fire. That's all that seems to submerge me: words, phrases, fury, rage, fire.

Smoke. Gargantuan mounds of clouds inundated the hazy sky as I only dreamt of a crystal blue one.




As I walked into my novel school in California during the middle of the year as a seventh grader, I was expecting the usual middle school, but as life often likes, it proved me wrong yet again. Lockers perplexed me, trying to distinguish between the identical, brick red doors dizzied me, and storing all the new faces into my head mesmerized me. I was sure that I, standing at a grand total of five feet with the flamboyant pink jacket draped across my torso, attempting to make a statement, with straight-across bangs and flower headband, and my rectangular, plastic-framed glasses, confused everyone too—everything here made me think twice, but I was sure it was the same for everyone when they saw me.
Gradually, as I became accustomed to my new life, eating on a lunch table in the corner, in solitude, with only two friends grew to become eating in teachers' rooms with numerous kids as I led club meetings: I had grown. I could definitely see my green light now and as I stood outside room 33 with a burrito in hand, I looked at the sky and only saw blue—clear yet wavering.
Sparks. Fire. Smoke. Broken.
As I finished my lunch, I walked to my fifth period, Spanish. Soon, the class settled down and began to work on a project that was about ourselves. I remember that day as if it were yesterday.
"Hey Aniqa, where are you from again?" asked a kid with a smirk on his face.
"Bangladesh. Why?" I replied. "I bet he's going to ask where it is," I thought to myself, and as if on cue, he asked, "Where is it?" "It's the tiny country to the right of India," I sighed. "Tu eres una terrorista?" he asked, snickering along with the rest of his friends that congregated around him. I sat there stunned and shamefully returned to my project.
Third grade—although I was too little to know anything about politics, I knew that what happened that year was gruesome. September 11, 2001 was a day that would change my future and mold it into something that would be plagued with the marks of judgment. As I finished third grade, my family and I moved to California in 2002 to be closer to family. As time passed by, judgment began to augment. When people saw my mother in her traditional salwaar kameez, they stared. "What's fasting, Aniqa?" began to be the annual question every single people asked once they heard what I was doing for Ramadaan. "Do you have to wear the head thingy-ma-jingy to cover your hair?" was a popular one too. But I have to say, the biggest one was, "Are you a terrorist?" The hazy sky wasn't a clear one. Although I had been born in Los Angeles, students almost always assumed that me being a Muslim, living in America, didn't make any sense—I wasn't American, I was a terrorist. "Terrorista, terrorista" seemed to be the chant that I would always expect to hear from a group in my Spanish class. Passing in the hallways meant being asked "What's Allah?"
As I progressed to high school, I became shameful of my culture. "MOM! WHY are you wearing that?! No...you have to change!" I grew to be a hater and not an embracer. My hazy sky had changed into a total ominous one. Looking back now, I realize that the events of 9/11 will continue to follow me everywhere I go; as long as I look Middle Eastern, it'll follow. It simply surprises me that even being an American citizen makes people dubious—people are so hasty to judge. But now I know better.
As I stand outside, I see a grey sky. I, one day, hope to see a blue sky, but let me ask you: what's your sky like?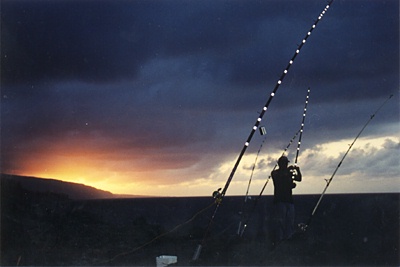 © Jeffrey J., Honokka, HI