The Week Before States
July 15, 2010
I always dreaded the week before States.

Not only was I absolutely terrified of running against people ten times better than I was, but it meant I had to run with him. It wasn't that I had anything against him—we were friends, I think. I could talk to him, as long as other people were around. And therein lay my problem: when we ran together, it was just us.

It wasn't always this way. Back in third grade, I can recall having many conversations with him, joking laughing with him. But that was before the hormones began to rage; when boys and girls were the same.

I remember the year I declared my undying love for him—how could I forget it. We were in fifth grade, in the same homeroom. There he was: dark hair all spiked up at the front, gorgeous blue-green eyes framed by long eyelashes, a god in my eyes. There I was: round face, big glasses, and crooked teeth. Not exactly the most desirable creature on the planet. I couldn't even utter a syllable in front of him without blushing.
Unfortunately, this wasn't the kind of crush that made you warm and happy inside. This made me feel as though a huge, heavy creature had perched itself on my shoulders, squelching me down into the ground.

When we entered high school two years later, it seemed like I could make a fresh start with him. He was still as gorgeous as ever, and thankfully, I had begun to grow into my body. Seventh grade was indeed a fresh start…although not the kind of start I wanted.
We sat together in reading class. He gave me his tropical-flavored gum. He discovered I had been nurturing a full-blown crush on him for two years. Awkwardness ensued for the next three years. Despite the fact that we ran cross-country and track together, we did not exchange words unless forced. Slowly but surely, my crush on him began to fade away. The great heavy creature was flying away.

I don't think I really began talking to him again until tenth grade, two years ago. I was no longer incredibly gangly and super awkward. He, if it was possible, had gotten even better-looking over the years. He had sprung up several inches and lost all his pounds of puppy fat. His dark brown hair was now shaggy and his smile was to die for. Umm, Abercrombie & Fitch called. They want their model back.
We would sometimes talk for a few brief moments. I felt myself falling for him again even though he showed no real interest in being more than friends. All that school year and through the summer I admired him from afar. I didn't want to scare him off again.

It was finally my junior year. I was so excited for school, but mostly I was excited to see him again. The first day of cross-country preseason, I saw him. With some newfound confidence I didn't know I possessed, I walked up and talked to him. The conversation lasted probably thirty seconds, but still, it was more than I had ever talked to him before. The great creature was back.

For homecoming that year, I plucked up the courage to ask him to go with me. Much to my surprise, he accepted. Things seemed to be going great. We laughed and talked together at cross-country practice, and even exchanged funny text messages.
This all changed the day we had a meet at home. I remember it as clearly as though it just happened. It's funny though, I can't even remember how it came up. What were we talking about? I have no idea. But what I do remember is that suddenly his best friend mentioned his girlfriend from a different school. A girlfriend? But he had just text-flirted with me last night. When I looked at him and saw him blush, I was absolutely crushed. The creature had lifted a massive foot and squished me into the ground.

After that day, I started distancing myself from him. Even though I later found out that they weren't actually dating, it hurt just as much. I have to admit, I creeped on her on Facebook, and instantly decided that I hated her. She was beautiful; I could never compare to her.
That season, when we had to run together before States, I remained icy towards him, not even giving him the time of day, hoping he'd ask what was wrong, hoping he'd do something. I don't think he even noticed me.

Over the long winter months before track season, I avoided him completely if I could. Why even acknowledge him? He had crushed my heart. My mom asked me why he and I never spoke anymore. I gave some feeble excuse and tried to ignore the hurt inside me.

Then, track season rolled around. I was going to have to run with him again. Great. But you know what the great thing about running is? You really don't have to talk to them. You're both tired and out of breath, so why talk? Anyways, I like running in silence. I found I didn't mind running with him as much when I had this idea in my head. I didn't have to try to force a conversation anymore. Besides, he had his precious girlfriend to worry about or whatever. Because by this point, they were dating. She even came to our Prom with him. Shove it in everyone's faces why don't you? God.

Suddenly, I was training for States again. And guess who I was training with? Him. I didn't even try to talk to him, I was just too shattered from the emotional rollercoaster he'd put me through.

And now it is summer again. The summer before my senior year. And I sit here thinking, am I really going to let this boy dictate my happiness? This stupid boy that has led me on on numerous occasions? Hell, no. I'm done worrying about him and what he thinks of me. Done with his boring girlfriend who looks ridiculous at track meets. I'm going to get to States again this year, so when we run those workouts together, just the two of us, I can kick his butt.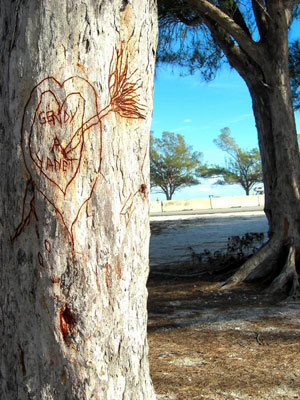 © Richard F., League City, TX