My Senior Night
June 1, 2010
As I lay on my back, heart pounding, in what I thought was going to be the biggest game of my senior year, hundreds of thoughts popped into my mind as my trainers, coaches, and parents surrounded me. What will happen now? Is this the end of my season? Will I be able to play this sport I love so much ever again?
Moments earlier, my adrenaline pumping, I was ready for my first carry of the game against number one ranked Central. The play called was a toss right, and my teammates and I lined up on the line of scrimmage. At the snap of the ball, I took three hard steps right, received the pitch, and cut up field looking for a hole. With no holes in my sight, I did what I do best and attempted to barrel through tacklers. Upon being dragged down, I felt a twitch in my left foot. I thought nothing of it, until I sat up and simultaneously felt the pain rush through my leg down into my ankle and saw my foot twisted to the side. My spirit broke at the view of my mangled foot. My only thought, less than five minutes into the game and I was done for the rest of the season.
After being wheeled away on a cart, a shaky ambulance ride to the local hospital, several x-rays, and finally some pain medication, my family and I could only wait for the news. The doctor confirmed I had broken my tibia, my fibula, and tore two ligaments in my ankle. He then informed me that he was going to reset my dislocated foot. I was told I needed to have surgery to reattach the torn ligaments and to plate the broken fibula. The next day, I met with the doctor who would perform the surgery and ensure my recovery. The only thing I wanted to hear from him was, "This will be a piece of cake, you will be up and around in a few weeks, and you will completely regain the strength in your leg and ankle." That was far from what he told me. The news came as a shock to me. I would not be allowed to walk or apply pressure for two months and would be lucky to play contact sports before summer. Two long months of crutches and inactivity will be the death of me I thought at first, but then realized there was good news. I will regain total strength in my leg and foot, and most importantly I would be able to play football in the future.
More than six months after that horrific night, and I still have the image of my distorted ankle burnt into my retina. I never pictured myself finishing my senior season with a cast on my leg; it never occurred to me that in one moment it could all end. I realized through my injury and rehab that nothing is going to last forever, so you should take every opportunity you can, live life to its upmost, and never take anything for granted.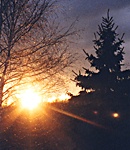 © Christy S., Germantown, NY