The Multiplicity of Home
May 31, 2010
It's an interesting feeling to look out the window of your youth hostel in a foreign city and realize you are almost 5,000 miles away from home. This is home, you think to yourself as you contemplate the light shining through the trees into your darkened room and the quiet chirping of the birds outside. You know these streets better than you know your own, you know the places, you know the things, you know the difficulties, the conveniences.
You've come to know the dirt on the floor as normal, the stains on your comforter as a natural part of cleanliness, the overflowing trash can in the corner that seemingly can never be emptied. All your things are here. This is home.

And yet, you know it is not. All of your hair and body products are travel size, your towel is filthy because you haven't washed it for two weeks, and your clothes stink. They don't just smell bad because you've worn them, but because they are dirty. Dirty from the dust of the city that's sneaked into the fabric and no matter how hard you try, never completely goes away. Dirty from the long hours spent on the train wondering where you're going and when you're going to get there.

That is what your life is, though, when you've made a home out of a number of different hostels in a number of different countries, a world apart from your true home. You never know where you're going or how you're going to get there. How ever, you do know there's a purpose. Everything happens for a reason is not just an over-used increasingly generic statement. It's prophetic. It's real. It's why we're here. We are not just here to run where we please and do as we wish with no regards to the greater universe we are part of. Everything does happen for a reason and it's all part of the journey home. No matter where you are, where you have been, or where you plan to go, eventually you will get there.

But that's not to say you have no choice in the matter. Of course there is choice, but each choice is made for a reason whether you recognize that or not. You don't decide to see the world for its artwork, or people, or culture. You decide to see it for you. You decide to see it because you know that in someway your experiences will change you. And after all, that's what you're really after. You therefore have to make your own choices and take your own path. It doesn't matter if you take a wrong turn or get lost because in the end you will end up right where you need to be.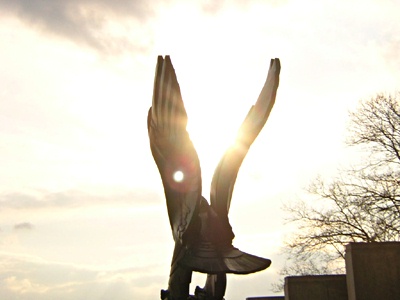 © Brittan S., Claremont, CA